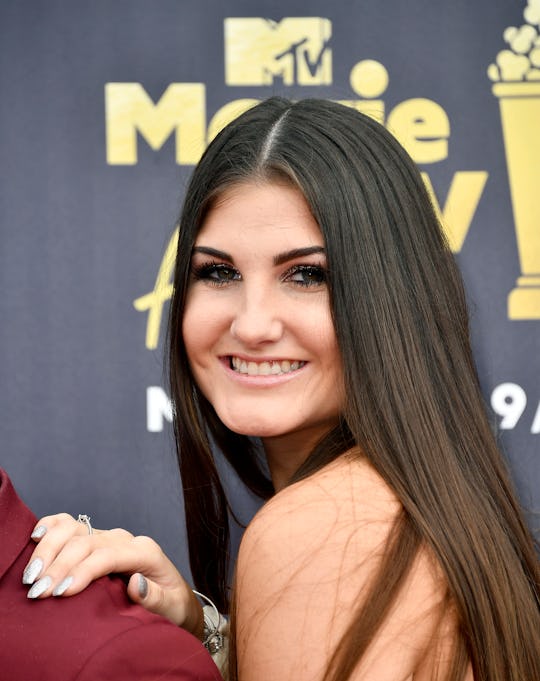 Frazer Harrison/Getty Images Entertainment/Getty Images
Kortni Really Pulled A Fast One On Her 'Floribama Shore' Roommates
There's been no shortage of drama on Season 2 of Floribama Shore, but one of the most dramatic storylines has been that of Kortni Gilson and her ex-boyfriend, Logan Fairbanks. During Episode 9, Kortni is worried that she may be pregnant with Logan's baby, and proceeds to take a series of pregnancy tests before she heads to her doctor's office. She stuns the house with pregnancy news, but then leaves them in an awkward silence. So is Kortni really pregnant on Floribama Shore? Apparently, she was just trying to pull a fast one on her friends.
During the latest episode, Kortni confirms her pregnancy to her cast mates after getting home from the doctor's office, but after they offer her congratulations and sentiments on how she's going to be a great mom, Nilsa can't help control her laughter. "I'm literally just kidding," Kortni reveals with a laugh. "No babies, not pregnant — who wants to get drunk tonight?"
Aside from the prank she pulled on the house, Kortni — who was genuinely worried about being pregnant earlier — has learned a lesson from the whole ordeal. On an earlier episode, Nilsa had revealed that Kortni was having unprotected sex with Logan (who had been acting erratically), so it seems this pregnancy scare has put her on guard. "All joking aside, this has made me grow a lot," she says in a confessional. "I've learned not to jump into relationships too quickly, to look out for red flags and don't look past them, and to use protection."
Kortni was understandably hesitant about having a baby right now, especially with Logan. Not only would a baby throw her future into question, Logan hasn't been an easy person for her to deal with. After showing up at her house uninvited, and behaving irrationally, Kortni took a restraining order out on Logan. On August 24, TMZ reported that Logan had allegedly broken the terms of the restraining order, and was arrested after Kortni called it in.
According to the police report provided by TMZ, after the restraining order was put in place Logan confronted Kortni at a bar with a knife, threatening to cut her into pieces. But because she allegedly didn't hear from Logan for months after the altercation, she never called the police to report it. However, earlier this summer, Logan allegedly began texting Kortni again, sending her messages like "I still love you it's never gonna change, bye for now baby momma," adding that he didn't care if he went to jail.
TMZ reported that this text exchange led Kortni to report the knife incident and threats. Logan was eventually found and arrested for violating his restraining order, along with being charged with aggravated stalking. According to TMZ, he is still in police custody, and there is no word on when he'll get out.
With Logan out of the picture (hopefully), maybe Kortni can move on to find love with someone new. She does seem to share a chemistry with her castmate, Jeremiah, but both of them keep insisting their relationship is purely platonic. But at one point Kortni admitted to Gus that she "would totally have Jeremiah's kids," and Jeremiah has said that he finds Kortni "not that hard to look at."
While she insists that their relationship started out as just friends, Kortni admitted that she is intrigued by the idea of pursuing something romantic with him. "I'm kind of taken aback by the feelings I have for Jeremiah," she said on the show. "While me and Logan were together, I would have never thought of Jeremiah like that. I really did think of him as a brother. But now that I've talked about it and it's out there, maybe something will happen."
For now, it's nice to know that Kortni has easier things to deal with in life, and that she can put fears of an abusive ex-boyfriend and unexpected pregnancy behind her. Hopefully, with some important life lessons learned, she can continue to move forward in a safe and healthy way.