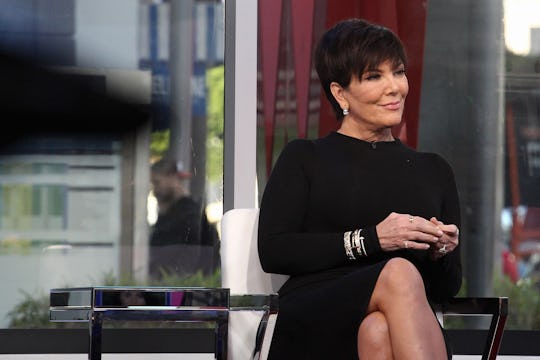 Tommaso Boddi/Getty
Is Kris Jenner Watching 'The People v. O.J. Simpson: American Crime Story'? She Has Very Close Ties To The Series
Before she was the matriarch of America's Royal Family, Kris Jenner was the ex-wife of Robert Kardashian, a defense lawyers for one of the most notorious names of the 1990s, O.J. Simpson. And, considering the reality star was also best friends with Nicole Brown Simpson (who Simpson was accused of murdering in 1994 before being found not guilty), it's safe to say Jenner found herself in the spotlight long before she did so on purpose. And as difficult as it is to recall her involvement in the trial, it seems all the more difficult to relive it on screen. So will Kris Jenner watch The People v. O.J. Simpson: American Crime Story?
Her opinion about the series certainly seems to have changed. Last spring, when the series was first announced, Jenner seemed to be hesitant about the FX series. As she told Entertainment Tonight about her "mixed feelings":
It was such a tragic story. It's something that you know you'll never be able to get over in any kind of a way where you don't think about it all the time ... When these things come back up, it's like it was a minute ago sometimes.
Since then, however, Jenner has become quite involved with The People v. O.J. Simpson. Not only did the Keeping Up With The Kardashians star speak with David Schwimmer for "hours" about her late husband, but Jenner also became friends with Selma Blair, who portrays Jenner on the FX series. (Khloé Kardashian even told press Blair attended the family's Christmas party.) And, in all of her conversations with press about the series in recent weeks, the reality TV star has spoken of her intent to watch her real live unfold on TV (in a much different way than usual).
As she said at a recent conference:
I'm excited to see it. I'm excited in a lot of ways, and I'm anxious about it, and I want to see how it turns out, but I've heard it's really good ... It will be kind of weird to watch it on TV as someone who lived that whole thing.
At the very least, Jenner will have a couch partner for the TV event. Khloé Kardashian, who is briefly featured in the premiere as a child, told reporters she will "definitely" be watching. "However they want to portray us is fine," Kardashian added.
So it's safe to say, come Tuesday night, that Jenner's Twitter will be just as must-see as The People v. O.J. Simpson itself.