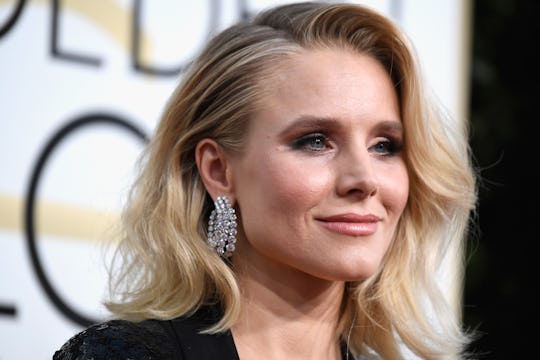 Frazer Harrison/Getty Images Entertainment/Getty Images
Kristen Bell Skipped The Golden Globes, But She's Still Wearing Black For Time's Up
On Sunday night, the 75th annual Golden Globe Awards were dominated by smart, talented, and outspoken women of the entertainment industry standing up for gender equality in the workplace. Seems like a perfect fit for Kristen Bell, but was she at the Golden Globes? Unfortunately, your girl spent the night in, but fear not; she was still standing strong with her sisters, wearing black in support of the Time's Up movement.
Fans were hoping that Bell would get nominated for her brilliant NBC comedy, The Good Place, in which she plays Eleanor Shellstrop, a complete dirtbag who appears to have ended up in Heaven due to a clerical error. I don't want to spoil anything for those who have yet to see the show due to tragically misplaced priorities, but I will direct you to Netflix and advise you to call out of work tomorrow so you can binge the entire first season. I'm not kidding, friends.
Back to the Golden Globes. Bell was among the actors who announced the nominations from the Beverly Hilton Hotel last month, but sadly, her name was not among them. She shared an Instagram selfie on Sunday explaining her absence: "Staying in tonight but wearing black with all my sister's! #whywewearblack #timesup"
The Golden Globes do seem like a fun time, especially this year, when it's turned into a giant celebration of women's empowerment and female friendships. But you know what else seems pretty enjoyable on a Sunday night, particularly if you're a working mom, like Bell and me? Staying home on the couch wrapped up in a comfy sweater, rather than some Spanx and a roll of fashion tape. Sure, it would have been nice if she been nominated for something and won, but there's always next year, right?
Besides, it's not like the award went to someone undeserving. The winner for Best Performance by an Actress in a Television Series, Musical or Comedy was Rachel Brosnahan, who stars in the cult Amazon series The Marvelous Mrs. Maisel as a 1950s housewife from the Upper West Side whose parlays her sudden divorce into a stand-up comedy career. Go ahead and call out Tuesday, too; it's only eight episodes, and I promise you'll be furious that it's not longer.
Besides, it won't be long until you get to see Bell in a sparkly black gown; she'll be hosting the Screen Actors Guild Awards on Jan. 21, the show's very first host ever — not the first female host, the first host at all. And if you're still bummed that she's not appearing at the 2018 Golden Globes, arguably the most feminist awards show of all time, it looks like the SAG Awards are attempting to break that record; according to The New York Times, the nominees were announced by women (Olivia Munn and Niecy Nash, two people I would love to meet for a margarita and some guacamole), and the two stunt awards and all 13 acting awards will be presented by women. Can I get a "Yaass, Queen"?
"Culturally, there's always been a conversation about equality," Bell, told the Times. "Now there's some mega-spotlights on this conversation and, dare I say, some pyrotechnics in the background." SAG Award executive producer Kathy Connell said that she came up with the idea for an all-woman cast after attending the Women's March on Washington with her daughter last year. The Me Too and Time's Up movements, which led to a reckoning for Hollywood's male predators, made her vision that much more important. "I want to salute women who are coming forward to speak at a very difficult time about very difficult subjects at great risk to themselves," she said. And who better to lead these women than Bell? Fans, please forgive her for taking the night off during the Golden Globes, because she's about to make it up to you in a big way.
Check out Romper's new video series, Romper's Doula Diaries:
Watch full episodes of Romper's Doula Diaries on Facebook Watch.