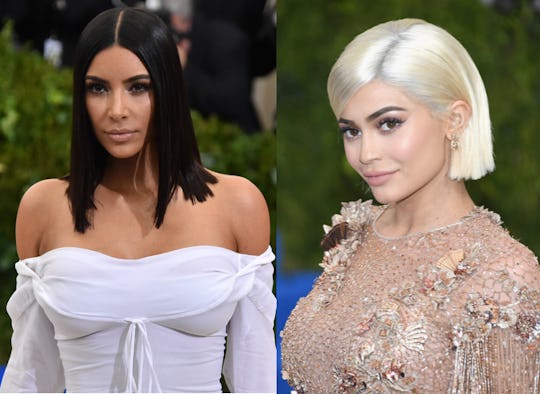 Mike Coppola/Getty Images, Dia Dipasupil/Getty Images
All The Clues Kylie Actually Is Kim's Surrogate
Since the rumors began to swirl about a triple Kardashian pregnancy, there have been murmurings that Kylie is actually not pregnant with her own baby, but instead working with Kanye and Kim to bring their baby into the world. It's not uncommon for a sister to serve as a gestational surrogate, but with the family in question, it feels strange that it wouldn't immediately be announced to the world, unless they're saving it for upcoming episodes of Keeping Up With The Kardashians. Now that Kim and Kanye's third baby girl has been born, and there's still no sign of Kylie, it's got people wondering all over again: is Kylie Jenner actually Kim's surrogate?
On Tuesday, Kim Kardashian tweeted "she's here," announcing the birth of her and Kanye's third child via surrogate in true Kardashian-West fashion. But where's Kylie? She's been mum on her own social media, and the paparazzi have seen neither hide nor hair of her. The 20-year-old makeup mogul's last tweet was 11 days ago, and it was a retweet for her cosmetic's line, leading people to believe she's been under the weather, or perhaps, preparing to give birth?
TMZ reported that the surrogate lives somewhere in the San Diego area, far from Kylie's home north of Calabasas, California. However, the outlet also reported that power couple Kim and Kanye might choose to have their child born at Cedars-Sinai, where their other two children were born.
As recently as late December, W Magazine published the article "Where In The World Is Kylie Jenner?" speculating as to the star's whereabouts. Her mysterious disappearance from society and social media is pretty shocking, given her propensity for documenting every moment of her life via Snapchat and Instagram. Kylie's last Insta was a close-up of her face on Christmas day, and, as anyone who's ever shot a picture just right to crop out the fact that you're wearing yesterday's pajama bottoms, it's pretty easy to infer from the picture that she might be cropping out a bump.
More intriguing was her absence from the famous Kardashian Christmas card. Fans of the show were chomping at the bit awaiting the announcement of her pregnancy via the yearly tradition and were instead disappointed and confused by her very conspicuous lack of presence in the famed card. Why hide from such a joyous event in a family known for capitalizing on each and every move? Could it be because while Kylie was pregnant, she wasn't about to become a mother, but instead become an aunt?
Hollywood Life reported that Kylie has been splashing her social media with all things pink: nails, clothing, decor, etc., showing a possible link to the child she's supposedly carrying. Kim Kardashian-West confirmed she and Kanye had a healthy baby girl Tuesday morning. Sources close to Kylie say that she wants to keep this area of her life private, but old habits die hard... were the clues there all along? Of course, all of this is speculation, and reps for Jenner haven't officially responded to Romper's request for comment.
Also, the due dates were supposedly very close, as noted in InStyle. Not only that, but as per the article, both Kourtney and Kris have offered to be a surrogate for Kim and Kanye, further promulgating the speculation that Kylie could be serving as a surrogate for the pair, following in the history of family offers.
One more clue: People reported that Kylie held a baby shower just one day after the pajama party shower held for Kim and Kanye, making fans question the timing.
Whatever the case may be, you better believe Kris and the wonder that is the Kardashians will make this into a publicity machine come next season, unless this marks a departure for Kylie Jenner from her family, and she truly decides to cultivate a private personal life, which would no doubt be the most surprising thing of all.
Check out Romper's new video series, Romper's Doula Diaries:
Watch full episodes of Romper's Doula Diaries on Facebook Watch.