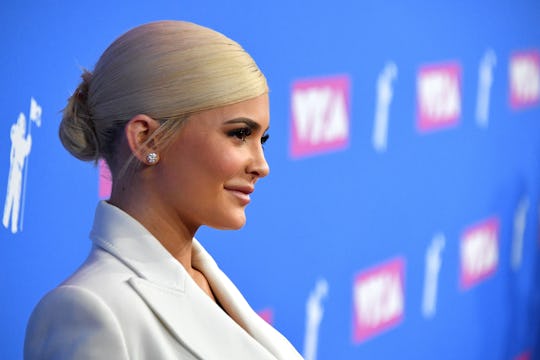 Dia Dipasupil/Getty Images Entertainment/Getty Images
Obviously, Travis Scott's Date At The 2018 VMAs Is Kylie Jenner
Just because Kylie Jenner is a mom to her 6-month-old daughter, Stormi, doesn't mean that she can't have a little fun. The freshly turned 21-year-old deserves a night out on the town with her boyfriend, Travis Scott. And with the MTV Video Music Awards (VMAs) happening tonight, Monday, Aug. 20, people have to be wondering — is Kylie Jenner at the 2018 MTV Video Music Awards?
Dozens of popular musicians and celebrities will be taking to the red carpet tonight at Radio City Music Hall in New York City for the awards show. And surely, fans have to be wondering if Jenner will be among them. Although Jenner isn't a musician and doesn't have too close of ties to the music industry, fans love seeing her at every opportunity they can — and with the VMAs being as popular as they are, people would definitely want to see her on the red carpet.
The great news is, Jenner is at the VMAs, as she's been scheduled to be there. One week before the VMAs, it was confirmed that Jenner and her beau, Travis Scott, would be attending the VMAs, according to E! News. And when Jenner stepped out on Sunday night in New York City wearing a gorgeous red dress and sporting new blonde hair extensions, it pretty much solidified the fact that she would be attending the VMAs the next day.
If that wasn't enough proof, then the purported VMA seating chart floating around Twitter, according to Cosmopolitan — showing where Jenner and Scott would be sitting during the big show — confirmed her presence at the show.
It makes sense why Jenner is attending the awards show and is sitting so close to all of the very popular musicians — Scott is performing at the VMAs this year, according to Billboard, in addition to musicians like Shawn Mendes and Jennifer Lopez. Because Scott has the honor of performing, it makes sense that he would want Jenner, the mom of his daughter, by his side.
Jenner and Scott's relationship is going very well. In fact, in a new interview in the September issue of Vogue Australia, Jenner revealed that her relationship with Scott is stronger than ever, according to Cosmopolitan. Jenner said that she and Scott "never miss a night with each other, we go back and forth from my Calabasas house and the city home that we actually got together."
Although fans are definitely seeing Scott and Jenner at the VMAs this year, it's a little less likely that they'll see their daughter, Stormi Webster, on the red carpet with them. After all, Stormi is only 6 months old and it's safe to assume that the VMAs are well past her bedtime. But, the couple's night out at the VMAs is probably a much needed break for them, because all parents deserve to have some fun with their S.O. every once in a while.
Despite all of the excitement, Jenner's presence at this year's VMAs has caused a little bit of controversy. Scott reportedly asked his seat to be moved further away from Nicki Minaj (and not directly behind her) after Minaj criticized Jenner for promoting Scott's new album, Astroworld, and using her fame to get it to the top of the charts, according to TMZ.
With that being said, fans are probably super excited to see Jenner on their TV screens yet again — in a context that isn't her family's reality show, Keeping Up With the Kardashians. Although the attention will be on the artists winning awards throughout the night, it's clear that at least some of that focus will be on Jenner.