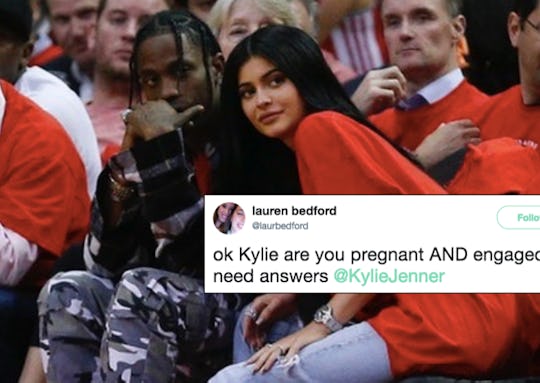 Bob Levey/Getty Images Sport/Getty Images & @laurbedford/ Twitter
Kylie Jenner's Snapchat Of A Ring On *That* Finger Has Fans Convinced They Hear Wedding Bells
If there is one family that has completely dominated headlines for the majority of 2017, it's the Kardashian-Jenner clan. The Trumps are up there too, but that's beside the point. One of the latest stories to take over social media amid all the pregnancy rumors swirling around the famous family is that fans are now convinced that Kylie Jenner is engaged. That's because of a recent Snapchat the beauty mogul posted and it definitely seems to be feeding into all of the speculation.
Saturday evening, Jenner attended the baby shower of her older sister, Kim Kardashian West, who is expecting her third child with husband, Kanye West, reportedly via surrogate. Jenner herself is also reported to be expecting a child with boyfriend, rapper Travis Scott, according to People, but no one in her family or his has either confirmed or denied the reports.
Nevertheless, Jenner's reported pregnancy has been highly-speculated over since the news broke back in September. And now, after Jenner posted a video of herself driving a car on Saturday, the rumor mill is churning out something completely new. In the videos Jenner posted, her left hand is in prominent view, and on that hand is a pretty flashy ring, on a very important finger. Of course, this doesn't necessarily mean anything, as Jenner's ring could have just been an accessory, but it seems pretty engagement-esque, if you ask me.
And, it seems as though I'm not the only one wondering if Jenner's ring is more than just a casual, diamond-encrusted accessory. Fans have been flocking to Twitter to hypothesize what the video, and that ring, really mean. Because, while Jenner may just be 20 years old, she's also a pretty savvy business woman, and if she can get more clicks, attention, and people talking, then why wouldn't she?
Seriously, considering that neither Jenner nor her sister, Khloe Kardashian have spoken about their respective pregnancy rumors, it seems likely that they won't be discussed until it comes up on their show, Keeping Up With The Kardashians.
In fact, many fans are straight-up convinced that no one in the family will say anything about either of the reported pregnancy rumors because they think it's all a giant marketing ploy by momager Kris Jenner. In fact, BuzzFeed wrote about the family's brilliant strategic planning back in 2015:
The family tease the media with snippets of information, confirming as much or as little about those rumours as they choose, but ultimately save the actual drama for the show, which creates interest around each season and maintains viewing figures.
In fact, the Kardashians are known for explosive episodes of their show on E!, drawing in as many viewers as possible. And, in all honesty, it's a pretty brilliant way of doing things. The family has made millions out of just being themselves, and Jenner is no different.
But, is she actually engaged? It seems pretty unlikely for the 20-year-old to post such a huge announcement on Snapchat, in such a casual manner. And, it's also not the first time she's sported a huge rock on her finger without any kind of engagement in the books.
In February, Jenner was still dating Tyga, and took to Snapchat to share a photo of the promise ring he had given her, writing, "If this is my promise ring I wanna know what my engagement ring gonna look like," as The Sun reported at the time.
Obviously, if you keep up with this KarJenner, you know that the two never got engaged and are no longer together, despite that huge diamond. So, while Jenner's most recent Snapchat seems to indicate an engagement with Scott, it could just be another promise ring or a flashy piece a bling she bought for herself she wants to show off. And until Jenner herself actually says something, that's pretty much all anyone can assume.
Check out Romper's new video series, Romper's Doula Diaries:
Watch full episodes of Romper's Doula Diaries on Facebook Watch.