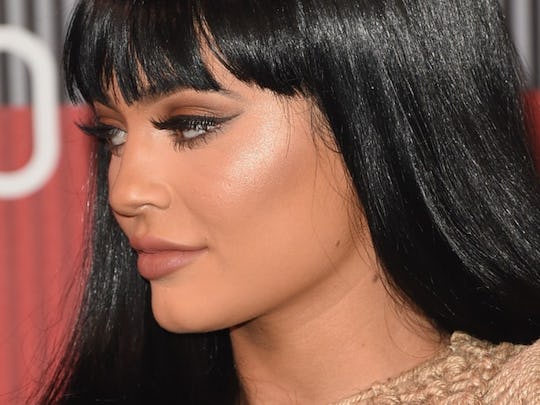 Jason Merrit/Getty Images
Is Kylie Jenner Engaged? Theories About That Diamond Ring Instagram Photo
On Christmas Day, Kardashian Queen Kylie Jenner set the internet on fire with a mysterious Instagram post, leaving many to ask the oh-so important question, "Is Kylie Jenner Engaged?" The answer? Probably not but it isn't impossible and is totally worth speculating about because, well, this is the Kardashians we're talking about, you guys.
Jenner posted a picture of a very blinged-out hand, with a gigantic diamond ring on a rather questionable finger. If you pay closed attention, however, and even though the ring is on Jenner's ring finger, it is on the "wrong hand," if we're talking about a potential engagement to her current boyfriend, 26-year-old rapper Tyga.
The diamond ring post came only weeks after Jenner shut down rumors that her and Tyga were broken up, after Jenner was absent at the rapper's 26th birthday party and failed to post any sort of "Happy Birthday" social media post when Jenner is (usually) extremely active on Twitter and Instagram.
Well, she's active on social media now.
It isn't too far fetched to assume the ring, while not part of a marriage proposal, is a very expensive "promise ring." Let's not forget, Tyga bought Jenner a Ferrari for her 18th birthday, so an oversized diamond ring as a Christmas present isn't beyond the realm of possibility for this over-indulgent, larger than life couple.
It also isn't too crazy to infer that the ring is a gift to Kylie, from Kylie. I mean, let's face it: She can afford it. At just 18 years of age, Jenner's net worth is reportedly valued at around $5 million. She has a successful hair extension line aptly named Kylie Hair Koutour, just launched her lip kit that has since sold out several times, and is paid a reported $5,000 per episode of Keeping Up With The Kardashians. Earlier this year, and when she was just 17 years old, Jenner bought a $2.7 million dollar home, so this isn't the average 18-year-old, you guys.
Regardless of what the ring actually means or who bought it for her, one thing is for certain: Kylie Jenner had one helluva successful Christmas.
Images: Jason Merrit/Getty Images/ kyliejenner Instagram/Kylie Jenner Twitter