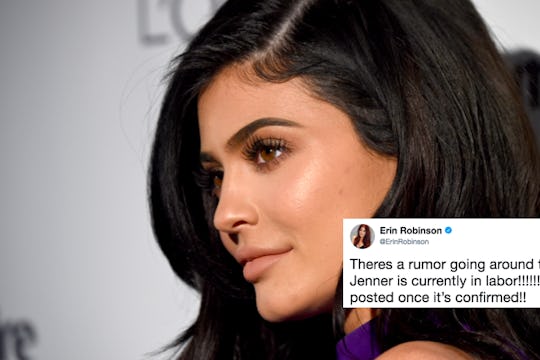 Frazer Harrison/Getty Images Entertainment/Getty Images
OMG, Twitter Is Convinced Kylie Jenner Is Officially In Labor
For months, fans have been waiting for Kylie Jenner to confirm and announce that she is expecting her first child. But that announcement might not happen and come in the form of a confirmation that her baby is actually here — if you trust what people are saying on Twitter. On Friday, fans started speculating on Twitter if Kylie Jenner is in labor and their tweets will have you convinced that something is going on. Romper has reached out to a representative for Jenner and is awaiting a response.
If you're confused, you have every right to be confused. There has been little conversation about when Jenner would announce and confirm her rumored pregnancy after the Kardashian Christmas card came out and didn't include Jenner or her pregnancy bump. Needless to say, fans were upset and left wondering if Jenner would ever say anything or if this pregnancy was even real.
But it's getting a lot more real now, especially since people on Twitter are claiming they know someone who knows someone who knows that Jenner is rumored to be in labor at the moment in Los Angeles. In this day and age, it is impossible for anyone to keep a secret so they could be right. But the important thing to remember is that these are all rumors until Jenner herself or any of her famous family members confirm that she is in labor. However, to me, these tweets are a little convincing.
Most people were anticipating Jenner to have made her announcement by now since it was initially reported in September that Jenner was expecting her first child with boyfriend, Travis Scott. It has been four months since that initial announcement was made. And throughout that time period, fans had not given up hope on the fact that Jenner could be pregnant looking for hints in her social media posts and remaining hopeful that the announcement would come, eventually. But sources told Us Weekly that there might be a chance that the announcement would never come. According to Us Weekly, Jenner was looking to keep something private for the first time and didn't want to share her pregnancy with the world.
But now fans can hope that if Jenner is really pregnant, she would at least confirm her baby's arrival (and maybe even share a photo of her baby online, too). But Jenner's silence speaks volumes — if she can't give fans at least one picture of her bump, then how are people supposed to assume that she'll ever confirm that her first child has arrived? People on Twitter were skeptical on Friday about the labor rumors, to say the least.
If it is true and the baby really is on it's way, then Jenner is already more than prepared, according to Us Weekly, because she has reportedly been baby proofing her home, getting the nursery done, and has even hired her own baby nurse. Her older (and confirmed to be pregnant) sister, Khloé Kardashian even hinted about the pregnancy rumors during an appearance on The Ellen Show where she played aloof to host Ellen Degenres' questions and did not outright deny the rumors herself. If Khloé isn't defending her sister and outright denying the claims, then some people thought that really confirmed her pregnancy.
But even if Kylie hasn't said anything, this announcement is super exciting regardless. There are a lot of Jenner and Keeping Up With The Kardashians fans out there. And for those (like myself) who have been keeping up with Jenner's rumored pregnancy over the past few months, this makes everything seem a little more real. Fans are one step closer to finding out if Jenner's little one will arrive and that really is the best news that anyone could receive on a Friday night.