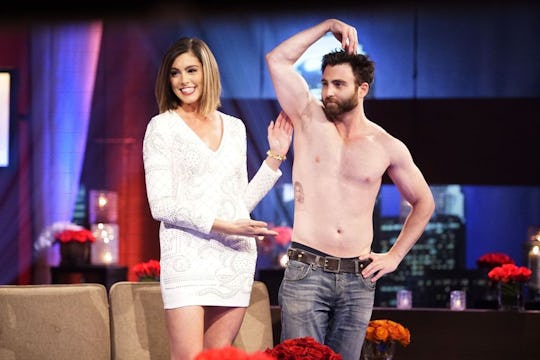 Kelsey McNeal/ABC
Is Lace Dating Anyone After 'The Bachelor'? She's Still Focusing On Herself
Lace wasn't the first Bachelor contestant to get a strange edit, and she certainly won't be the last. But, something that made Lace stand out on The Bachelor — aside from her constant paranoia that she wasn't getting enough time with Ben — is that she stopped herself early on in the season. Instead of continuing to act like someone she says she's not, Lace pulled the brakes on The Bachelor and left, vowing to learn to love herself before she loves anyone else. So, has that time come? Is Lace dating anyone after The Bachelor, and has she learned to love herself?
You have to really commend Lace for doing something that so many contestants on The Bachelor and Bachelorette probably wish they would have done. Instead of slipping down a dangerous road of acting like someone who isn't the person she wants to portray on the show, Lace gracefully excused herself. It was obvious that the environment that The Bachelor creates was not conducive for Lace. She noticed that and made a decision that benefitted her. It's admirable.
But, now that Lace has been able to take a step away from the show and really focus on herself, has she found love? On "The Women Tell All," Chris Harrison asks her if she's learned to live by the words on her tattoo, which gets a quick "no," from the Bachelor star. What is important to note , though, is that she once again is able to see that she needs to continue to focus on herself and continue to make herself the top priority in her life before making someone else a priority. So, based off of that, I'd say no, Lace is probably not dating anyone. (Plus, how would she be able to be on Bachelor in Paradise if she was dating someone right now? Her appearance on that show is more than a pipe dream to me.)
Although, if Lace is looking for someone to date, then I think she might have found a good contender at "The Women Tell All." While speaking with Chris Harrison about loving herself, a man in the audience blurts out that he thinks she is "crazy" but "crazy beautiful," before revealing that he has a Lace face tattoo on his person.
What. If this isn't orchestrated by the production crew, then boy, did The Bachelor folks strike gold with this guy's commitment to Lace. While I don't know if Lace is prepared to start dating anyone — per her own admission — I'd say that maybe this guy is a good candidate for the future? Or is the tattoo something that we should mark against him?