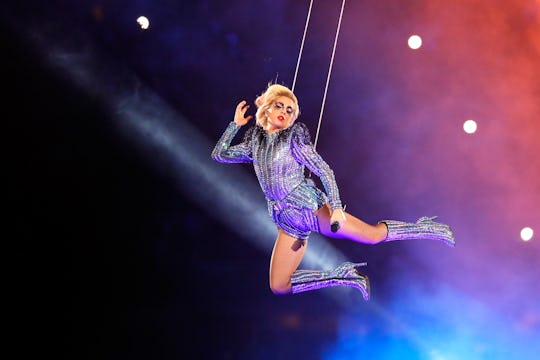 Kevin C. Cox/Getty Images Sport/Getty Images
Is Lady Gaga Lip Syncing At The Super Bowl?
The 2017 Super Bowl is finally here and while some may actually be watching the football game, the rest of us are here for one thing only: Lady Gaga. When it was announced the six-time Grammy winner would be performing the halftime show at this year's Super Bowl, her Little Monsters couldn't wait to see what the singer would do on stage. However, now some are wondering is Lady Gaga lip syncing during her performance?
Gaga isn't the first singer to be accused of lip syncing and she certainly won't be the last. I'll never forget when Beyoncé was accused of lip syncing at the 2013 inauguration (she did later admit singing along to a pre-recorded track) and used her own Super Bowl conference that year to sing the National Anthem so every could be sure she could sing. The fact of the matter is, a football arena isn't the best place to sing live. It's usually cold, the acoustics are generally awful, you have a 360-degree audience to cater to, and it's just not where you want to be performing live for millions of people. That being said, it's still disappointing to see your favorite artist get caught lip syncing, even if deep down you know they really can sing.
Thankfully, Gaga's fans had no reason to be worried. The singer started her performance singing "God Bless America" and it immediately became clear there'd be no lip syncing tonight. After flying into the stadium, Gaga went right into her repertoire, starting with an old favorite, "Poker Face." She then went on to sing a lot of her classics, including "Born This Way," which many of her fans took as political statement.
Through each song there was no doubt that Gaga was performing live, hitting each note with the same level of style, drama, and pizazz that she's become known for. From "Million Reasons" to "Bad Romance," fans absolutely loved her performance and were sad when she dropped the mic, indicating her performance was truly over.
Though many were disappointed that Beyoncé didn't drop in for "Telephone," I personally loved every second of that performance and now want to listen to every Gaga song ever made. Even though it probably won't compare to this amazing live performance, I definitely haven't heard enough of Lady Gaga tonight. Hopefully someone will upload the whole performance soon so I can relive it over and over again.