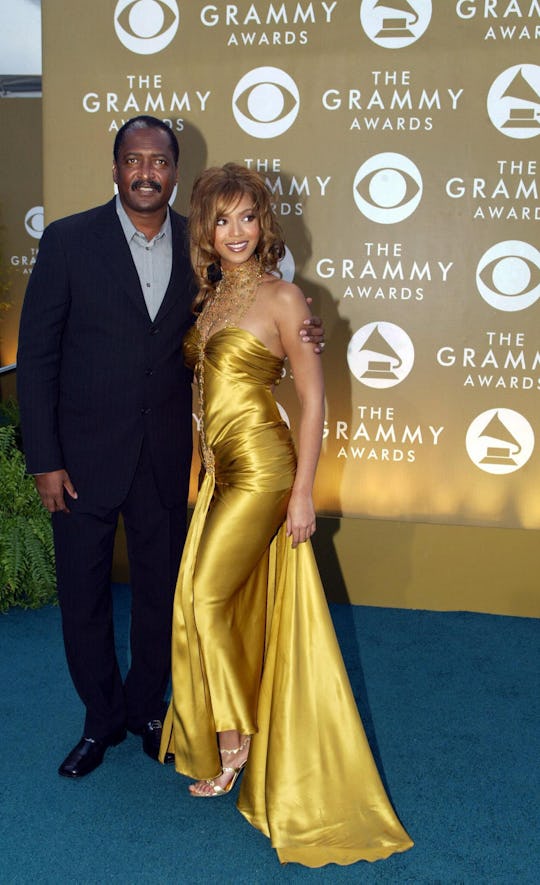 ROBYN BECK/AFP/Getty Images
Is 'Lemonade' About Beyonce's Father? There Are Strong Hints
Beyoncé's Lemonade is here and it is intense. The lyric-heavy, hour-long special has been nothing short of a surprise, and it is amazing. The lyrics, which are super content heavy, have a lot of meaning behind them, especially the songs with lyrics alluding to men and infidelity in them. With that said, the special has fans wondering, is Lemonade about Beyoncé's father?
Beyoncé's father, Matthew Knowles, was Beyoncé's manager when she was just starting out in her music. He and then-wife — Beyoncé's mother, Tina — were an integral part in establishing both Destiny's Child and Beyoncé's career from early on. Beyoncé and her dad parted ways professionally in 2011.
"We mutually agreed to part ways in terms of me managing Beyoncé, as my focus is in the investment of Music World Entertainment's growing gospel and inspirational music division..." Knowles said, in a statement to Us Weekly.
Beyoncé also made a statement to Us Weekly about the split at the time. "I've only parted ways with my father on a business level. He is my father for life and I love my dad dearly. I am grateful for everything he has taught me," Beyoncé told the magazine.
This split between the two came after Knowles' announcement that he had split from wife, Tina who he had been married to for 31 years. The couple originally separated in 2009, when according to The Daily Mail, news had emerged that Beyoncé's dad had fathered a child with another while he was married to Tina at the time.
But is Lemonade about Beyoncé's father? I can't be too certain about the whole album or video project, but I do feel that one song in particular, "DADDY LESSONS" is about Beyoncé's dad. Maybe, in part due to the lyrics — or the title.
"DADDY LESSONS" is a country style song with a ton of soul and is the sixth song on the Lemonade track listing. It is very reminiscent of Beyoncé's Texas raised country roots.
"Came into this world, Daddy's little girl, Daddy made a soldier out of me," Beyoncé says in the opening verse of the song. This could be a reference to a lot of things, specifically Beyoncé being close to her dad and also his position as her manager, making her into a tough, yet talented little soldier.
During Lemonade, the song was interspersed with video clips — mostly of Beyoncé and New Orleans locals — with one old clip of Beyoncé in particular, having a conversation with her father as a young girl.
The song also included a video clip of Beyoncé's dad and Blue Ivy, jumping on a hotel bed together and perhaps showing that there is no ill will between Beyoncé and her father — if anyone had those thoughts about the two while watching Lemonade.
"When trouble comes in town, men like me come around, oh my daddy said 'shoot.' My daddy said 'shoot.'"
If anything, Lemonade alludes to Beyoncé's father and pays tribute to the fact that he made her the incredibly strong woman that she is today. Strong enough to put out such a heartbreaking and amazing album like Lemonade.