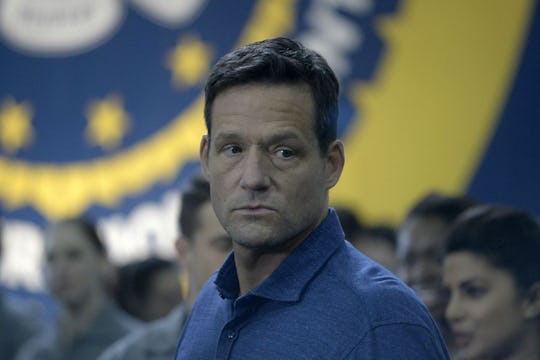 Philippe Bosse/ABC
Is Liam The Traitor On 'Quantico'? It Certainly Looks That Way
(Warning: this post contains spoilers from the May 8 episode of Quantico.) We finally have our answer, Quantico fans. After almost nine months of waiting to find out the identity of the terrorist on Quantico, we've finally been given the big reveal. And what a reveal it was. On Sunday, we learned that Liam is the traitor on Quantico and he is ready to do just about anything to right the wrongs that he thinks needs fixing. But, why is he the traitor? What led him to this mindset, and what can we expect from the finale of the show?
It is possible that Liam is just another "player" in the theatrical drama that the real terrorist has taken upon himself (or herself). But, if that's the case, then Liam is really committed to the role, because he (probably) killed Miranda in the penultimate episode, in cold blood, because that's what bad guys do. Yes, Liam is a bad guy — and if you can't accept it just now, let it sink in, because the finale is only going to reveal more.
Liam being the traitor makes sense, in a way. He knows all of the secrets that the NATs have — he even knows some secrets about them that they don't even know (like Alex's dad's secret). He is able to use this information to his benefit, clearly, manipulating the NATs (and graduates!) in many ways. But, is he working alone? Is he doing this for someone else? Is he a red herring?
Series creator Josh Safran told TVGuide that Liam is actually the traitor, so you can rest easy at night. There are no more twists, but "there is more to the story," Safran tells TVGuide following Sunday's episode. He wouldn't say if Liam was working alone, but something tells me he is not working alone. He's got a lot of pull in this world, and there's no way he would be able to do all of this while managing Quantico, or even being apart of the FBI. The season finale will answer the "how and why," Safran says, so don't miss the beginning five minutes.
Hopefully we'll learn what caused Liam to snap. Was it the constant rejection from Miranda and Alex? Was it the Chicago incident creeping back up into his life once Alex joined Quantico? The finale will certainly be something that will answer all of these questions. And, hopefully people realize that Miranda isn't the traitor before it is too late (if that line hasn't been crossed already).