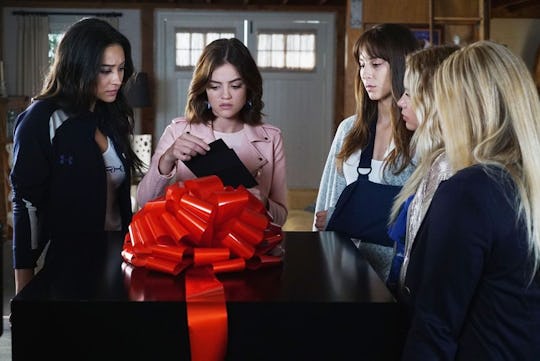 Eric McCandless/Freeform
Fans Wish They Could Play This 'Pretty Little Liars' Board Game
On Pretty Little Liars, the stalking of the main girls has always had a very specific theme: with its motif of dolls and dollhouses, there was always a childhood game element to the horrors the girls were forced to endure as A played with their emotions. In the Season 7 midseason premiere, "Playtime," A.D. took that one step further by delivering a literal board game called Liar's Lament to Spencer's apartment to move their plans along. But is Liar's Lament a real Pretty Little Liars board game?
So far Liar's Lament only exists on the show, but if enough fans ask for it, who knows what might happen? The game seemed seriously fun — at least for those not being actively stalked by a mysterious masked figure. The board game was a perfect representation of Rosewood down to the last little detail, with lights and tinkling music. It even had five small playing pieces to represent each of the five girls. When an attached cell phone was put in the middle, the game began. Liar's Lament is like if Jumanji was tailored to all your deepest personal fears and secrets. Which is... fun?
A.D. promised to provide answers if the girls played along, but that also meant allowing themselves to be manipulated to meet A.D.'s ends. It was a dangerous game to play, but one that they had to go along with if they wanted to find out the truth.
The girls initially vowed not to play the game so that they wouldn't get sucked into A.D.'s machinations, but when Liar's Lament offered Spencer information about her birth mother Mary Drake, she decided to go for it. The first thing the game made her do was choose between truth or dare, and it sent Spencer to visit Toby in the hospital, where he was still recovering from his car accident. Painful as it was, their conversation actually seemed to be helpful for Spencer. Maybe A.D. just wants to inspire everyone to talk things out?
After she returned home, the game spit out some information in the form of a letter Mary had written in Radley either shortly before or shortly after Spencer was born. In it, she explained that even though the circumstances of Spencer's birth were far from ideal, Mary loved her and was ashamed of all the awful things she had done. All she wanted was Spencer's understanding and forgiveness, if she could have it. Once again, A.D. seemed to be providing Spencer with closure instead of torturing her, so what is the ominous endgame this is all leading to?
Showrunner Marlene King revealed during the TV Critics' Association winter press tour that Liar's Lament was going to play a major role in the final ten episodes of the series. "He forces the Liars to play this game in the final ten episodes," King said. "And the stakes are incredibly high."
Liar's Lament might be a little too intense for Hasbro to mass produce, but it looks like it will finally reveal some answers to the residents of Rosewood.