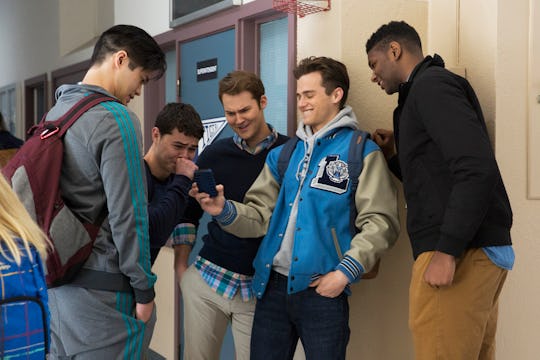 Beth Dubber/Netflix
Liberty High Is A Unique Setting For '13 Reasons Why'
Jay Asher's bestselling novel 13 Reasons Why got the Hollywood treatment when singer Selena Gomez decided to executive produce the TV series for Netflix. The show, which was written by Brian Yorkey who wrote the Tony winning musical Next to Normal, follows Clay Jensen as he listens to the 13 reasons why his former classmate Hannah Baker decided to end her life. The majority of the show takes place at Clay and Hannah's high school, Liberty High, but is Liberty High a real school on 13 Reasons Why?
While Liberty High is actually a fictional school, the show was filmed at a real high school campus. Analy High School in Sebastopol, California was transformed into Liberty High for the show. The school, which is 100 years old, underwent a makeover before filming. All the signs were changed to say "Liberty High School," and Paramount even signed a contract with West Sonoma County High School District, that the show wouldn't use the name of the high school. It's pretty clear why the school wouldn't want to be attached the show.
13 Reasons Why not only traces Hannah's reasons for ending her life, but also follows her parents' lawsuit against the school for not doing more to help her and allowing so much bullying to take place on the grounds. Her parents believe she was depressed and no one stepped in to help Hannah before it was too late. Naturally, that's not a reputation any high school would want, even if it is on a fictional show.
Along with the contract, Paramount also paid the district $60,000 for filming at the school for 30 days and $2,500 per day for any additional days. Though the show is filmed at a real high school, none of Analy's real students appear in the series. The show filmed at nights on weekdays and all day on Sundays, and it was said to be a "closed set."
Though students may have been disappointed to miss out on their chance to be on a TV series, the district is happy that their school was used and plan to use the money to make improvements to the school's campus that they couldn't afford before.
13 Reasons Why, which releases on Netflix on Friday, March 31, is an interesting look at the life of high school students and how their actions that may seem small, can actually have a great impact on peoples' lives. The show stars Katherine Langford as Hannah and Dylan Minnette as Clay Jensen.