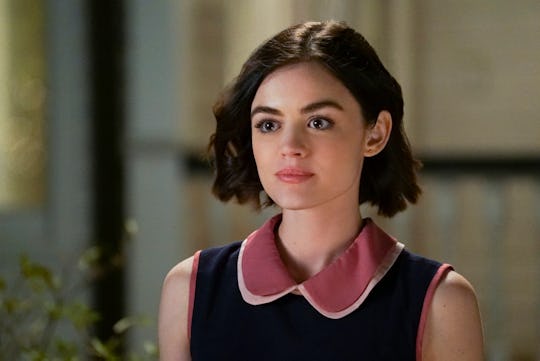 Annette Brown/The CW
Lucy Hale's New Series 'Life Sentence' Is Definitely Worth Your Attention & Here's Why
After the end of Pretty Little Liars fans were worried about when they'd see their favorite Liars back on their TV screens, but never fear. Lucy Hale, who played Aria on the popular murder mystery series, is already back and starring in the new CW show, Life Sentence, which follows her character, Stella, after she discovers she's been cured from a terminal illness. But is Life Sentence based on a true story?
While there's surely been a few miracle cases where someone makes a full recovery from a terminal illness, Stella's story isn't based on any particular one. Instead, the show, which was created by Erin Cardillo and Richar Keith, is very much its own thing. This is great because it gives the writers the opportunity to basically let this story play out however they choose to, which seems to be in the form of a dramedy.
For eight years Stella lived every day like it was her last because she'd been diagnosed with cancer and believed she would die at any moment. Thus, she never got an education and spontaneously married a hot British guy, Wes, while in Paris. In addition, because she was battling cancer, her family handled Stella with kid gloves, meaning they kept everything that was going wrong in their lives a secret from her.
Once it's revealed that Stella has been cured and will actually get the chance to live a full life, Stella's whole world changes. It turns out her mom is actually interested in women and no longer wants to be with her father, which results in Stella's parents separating. They're also pretty broke now that they've spent a good chunk of their money on hospital bills. Things have gotten so bad, they're even selling their house.
Also, Stella's siblings, Elizabeth and Aiden, have resentments about all the time and attention that was given to their sister over the past eight years. Elizabeth even gave up a scholarship to Columbia to stay at home and take care of her. Aiden, on the other hand, was selling drugs and using Stella's cancer as a way to get women to sleep with him. In other words, the family's not doing so well.
On top of that, Stella and Wes' marriage no longer has an end date so they now must figure out what kind of future they want together, or if they even want one at all. It turns out Wes was keeping a lot of facets of himself a secret from Stella just to keep her happy. Will she like the real Wes when she gets to know him?
Then there's also the matter of having no education so Stella has no job prospects. She's not exactly qualified to do much of anything, and based on the trailer, it doesn't look like she'll be a successful barista either. So while Stella may be grateful for her second chance at life, it's going to come with its fair share of complications.
Life Sentence definitely seems like a great next step for Hale. She's obviously the star of the series, so it'll give her a chance to really stretch out those acting chops of hers and show viewers what she can do. Hopefully this will be another long-lasting series for her to be apart of for many years to come.
You can see Hale in her new role when Life Sentence premieres Wednesday, March 7 at 9 p.m. EST on The CW, right after a new episode Riverdale. Don't miss it!
Check out Romper's new video series, Romper's Doula Diaries:
Watch full episodes of Romper's Doula Diaries on Facebook Watch.