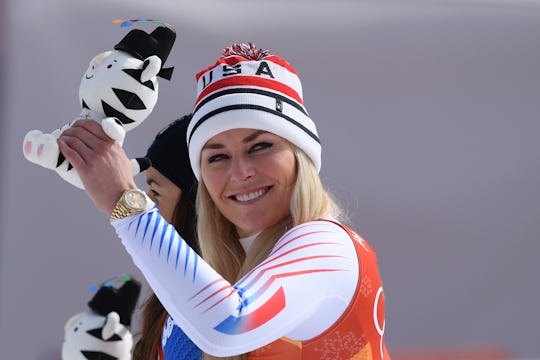 Matthias Hangst/Getty Images Sport/Getty Images
Is Lindsey Vonn A Democrat? The Olympic Skier Has Made Her Political Beliefs Very Clear
All that people should be saying about Team USA skier Lindsey Vonn this week is "Congratulations on winning a bronze medal at the Olympics this year, Linds!" Instead, President Trump-supporting trolls have been criticizing the Olympic skier on Twitter, slamming her for the events in which she did not earn a medal, calling her a disgrace to the country, et cetera. You know, your basic Trump troll tweets. And instead of ignoring the hate, Vonn decided to acknowledge it, making her political views clear. So if you were wondering if Lindsey Vonn is a Democrat, the answer is a big, resounding yes.
Vonn has made her political views clear on multiple occasions — and like many other Americans, those views are affected by her disapproval of the president. In December, CNN asked the Olympian if she would visit the White House should she be invited following the Olympics. "Absolutely not," Vonn told the outlet. "No. But I have to win to be invited. No actually I think every US team member is invited so no I won't go." She also criticized the Trump administration, adding: "I want to represent our country well. I don't think that there are a lot of people currently in our government that do that."
Her comments to CNN in December generated a ton of backlash, so she responded with a lengthy Instagram post clarifying why she said what she said. Here's part of her statement:
The point that I was trying to articulate is that all Olympic athletes represent their nation as a whole, and are not representatives of their government or any specific political figure or party. None of us work tirelessly for years on end to compete in the Olympics on behalf of Democrats or Republicans. The Olympics are a non-political event, a chance for everyone to put aside their differences and be on the same "team.". That does not mean that Olympic athletes don't have political opinions.
She also subtly shaded Trump on Election Day back in 2016. Because a picture speaks 1,000 words (and a meme speaks 2,000 words), she shared a meme from The Office, likely to express how the news of Trump's victory made her feel.
Vonn clearly felt differently about the nation's last president, because she visited the White House during the Obama era (ah, those were the days) on multiple occasions. President Barack Obama and Michelle Obama invited Vonn to the White House Correspondents' Dinner in 2014, where the trio posed together for a headline-making photo, according to USA Today. Less than two months later, she returned to the White House to support her then-boyfriend, golfer Tiger Woods. Obama was honoring Woods' golf team, which had recently won the Presidents Cup for the fifth time in a row, according to the Daily Mail.
Over the weekend, Vonn narrowly missed medaling at the super-G skiing event, coming in sixth place. She took to Twitter afterwards, expressing her frustration (yet positive outlook) regarding losing the event. "Frustrating to be so close to the podium and to have made such a big mistake...but that's ski racing," she tweeted. "I'm proud of the way I skied and how I attacked the course. I gave it my all and came up short. That's life. Now it's on to the Downhill!"
The tweet racked up more than 1,000 responses, some of which criticize Vonn for her political views.
Others responded to her tweet with much more supportive messages.
One particularly supportive response came from Julie Foudy, an ESPN analyst and former soccer player.
Vonn replied to Julie's tweet, expressing that she isn't letting the haters get to her. "It's ok Julie. Not everyone has to like me but my family loves me and I sleep well at night," she tweeted. "I work hard and try to be the best person I can be. If they don't like me 🤷🏼‍♀️ their loss I guess... Thank you for the support🙏🏻❤️." She then added, "Tomorrow is another day and another opportunity to become better. Goodnight ❤️🙏🏻."
While using her platform as a famous athlete to make her political beliefs clear has attracted some haters, Vonn has made it clear that she will not let the trolls get to her. Lindsey, I hope you have a great time not visiting the White House next week.
Check out Romper's new video series, Romper's Doula Diaries:
Watch full episodes of Romper's Doula Diaries on Facebook Watch.