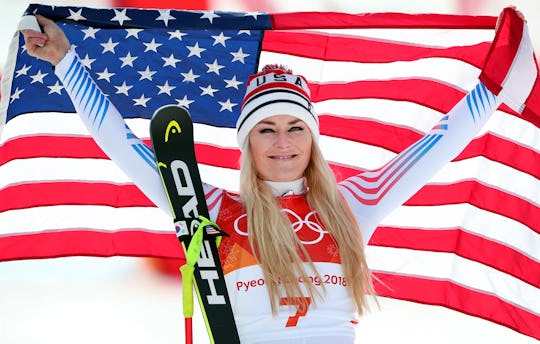 Tom Pennington/Getty Images Sport/Getty Images
Is Lindsey Vonn At The Closing Ceremony? This Could Be Her Last Olympics
Is it really over already? How can this be possible? Alas, the 2018 PyeongChang Winter Olympic Games came to an end Sunday. Although official events wrapped up on Saturday, the closing ceremony began at 6 a.m. Eastern Time Sunday (but 8 p.m. if you're watching on primetime) — which means, sadly, that we will no longer have the opportunity to see our favorite winter sports athletes compete among the best in the world. Those who have been following along for the past two weeks might be wondering if they'll have the opportunity to spot certain Team USA Olympians just one more time before it's all said and done. But will Lindsey Vonn at the closing ceremony? Because this could be her last Olympics.
Those who were hoping to see Vonn take what was likely her final walk as a Team USA Olympian probably know to pay close attention during the parade of athletes. If you aren't familiar with closing ceremony tradition, this is when Olympians march out all together and in no particular order, following the entry of nations' flags. However, since the parade of athletes is unlike the Parade of Nations during the opening ceremony — during which athletes march out behind the flag of their nation in alphabetic order — it might have been a little more difficult to spot Vonn. Still, news outlets did manage to spot the skiing legend, alongside some of her fellow Team USA athletes. And here she is fist-bumping very hard at the end of the closing ceremony:
Vonn also posed for a photo with a number of athletes at the ceremony, including famous Tongan flag bearer Pita Taufatofua.
Let's take a look back at Lindsey Vonn's performance at this year's games, shall we? At age 33, Vonn became the oldest women's alpine skier to win an Olympic medal when she claimed bronze on Tuesday in the downhill race, according to TeamUSA.org. "I gave it my best shot," Vonn said in an emotional NBC interview. "I'm so proud."
At the end of this heartfelt race, Vonn also confirmed that it was most likely her last downhill race at the Olympics. "I love racing," she told NBC:
I love being in the starting gate with so much pressure you feel suffocated. But somehow you will yourself to give everything you have, and you throw yourself down the mountain in hopes of a medal. I'm absolutely going to miss it. I wish I can keep skiing. I wish my body didn't hurt as bad as it does.
Although she did not end up medaling in the women's super-G or the the women's combined, her bronze medal in the downhill marked the accomplished skier's third career Olympic medal, according to TeamUSA.org.
Finally making it back to an Olympic podium was particularly meaningful to Vonn, who has battled repeated injuries, as USA Today reported. In 2103, she blew out her knee in a horrific crash at the world championships. Ultimately, Vonn was unable to compete in the 2014 Sochi Olympic Games because of her injuries.
As if that weren't devastating enough, Vonn ended up breaking her right arm in November 2016 — an injury that resulted in a metal rod being inserted in her arm, reported USA Today. Still, she proved that she could make a comeback.
As the 2018 PyeongChang Olympics come to an end, I know I'm bummed about not having go-to programing in the evenings after my kids are finally asleep. Which is kind of a big deal because I hate watching most sporting events. (On the plus side, there will finally be a new Grey's Anatomy next week.) Let the countdown to the 2020 Tokyo Summer Olympics begin!
Check out Romper's new video series, Romper's Doula Diaries:
Watch full episodes of Romper's Doula Diaries on Facebook Watch.