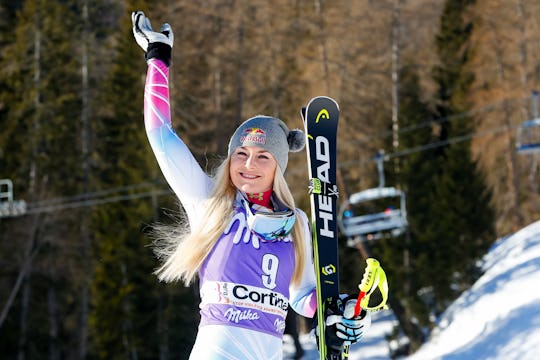 Christophe Pallot/Agence Zoom/Getty Images Sport/Getty Images
Is Lindsey Vonn At The Opening Ceremony? The Alpine Skier Is Back For Her Fourth Olympics
After a six-hour flight delay and a full 24 hours of traveling, the most decorated female ski racer of all time — who just so happens to compete for Team USA — and her dog Lucy finally made it to PyeongChang, South Korea for the 2018 Winter Olympics. Lindsay Vonn's first event, the Super G, is on Saturday, according to ABC, and since athletes frequently skip the kick-off festivities when they have to compete the next day, viewers may be wondering: is Lindsey Vonn at the opening ceremony? The alpine skier was gearing up to join Team USA in PyeongChang Olympic Stadium on Friday night, according to her Twitter account.
Of course, the 15ish-hour time difference between PyeongChang and the United States means that those of us rooting for Team USA either had to tune into a live stream beginning at 6 a.m. Eastern Time to catch the opening ceremony, or wait until 8 p.m. EST for the primetime show on a tape delay. Either way you tuned in, the opening ceremony featured all the classics: the Parade of Nations, the lighting of the Olympic torch, and a symbolic spectacle melding Korean history with contemporary cultural elements (i.e., what we're all really here for: the K-pop performances).
Vonn and her teammates walked into the stadium sporting Ralph Lauren parkas with a built-in battery-operated heating system, according to Teen Vogue. That's because temperatures inside the $109 million stadium — which, despite the fact that it was built just for the Winter Olympics, was designed to be open-air instead of having a roof — are expected to be in the single digits during the opening ceremony. Olympics organizers scrambled to offset possible cases of hypothermia by distributing hot packs and blankets and expediting the security check-in process, according to Reuters. But Vonn made an appearance in Shaun White's pre-parade Instagram post and Team USA was looking ready to brave the cold.
Luge slider Erin Hamlin was the flag bearer for the United States, a somewhat controversial decision, which speed skater Shani Davis took to Twitter to blow off some steam about. Both athletes are competing in their fifth games, but this will be Hamlin's final run. Davis was the first black athlete ever to medal individually at the Winter Games back in Turin in 2006. Team USA athletes decide who carries the flag and Hamlin and Davis were each tied for votes. According to US Olympic Committee rules, ties of this nature are broken with a coin toss. Hamlin won the toss and Davis took to Twitter to voice his dismay with not being chosen.
Davis actually skipped the opening ceremony to focus on his events, but a spokesperson from the U.S. speed skating team said he would have made an exception had he been chosen as flag bearer, according to BBC.
Vonn made waves of a very different nature at her first press conference for the games, bringing her dog Lucy along with her to answer questions from reporters. The spaniel obviously stole the show and media outlets are already declaring them the official power couple of the Winter Games (sorry figure skating couples who are also real couples). Vonn, who has two more dogs at home, said she got Lucy to help with the loneliness she felt following her 2011 divorce.
"It's extremely lonely on the road and since I got divorced, I had a lot of free time on my hands at night," she said, according to USA Today. "And being in a hotel room is oftentimes, yeah, it's just extremely difficult."
#LucyForTeamUSAEmotionalSupportDog
Check out Romper's new video series, Romper's Doula Diaries:
Watch full episodes of Romper's Doula Diaries on Facebook Watch.