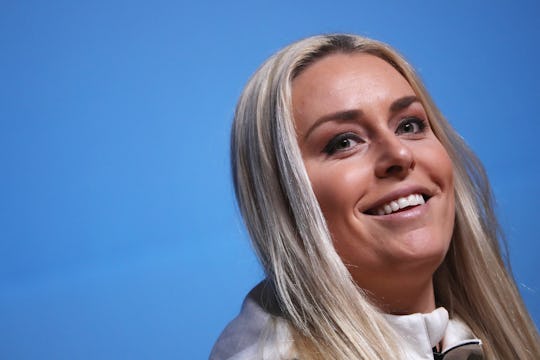 Ker Robertson/Getty Images Sport/Getty Images
Is Lindsey Vonn Single? The Olympian Has Been Candid About Her Love Life Recently
A lot of strong voices have emerged from the 2018 Winter Olympics, with athletes showcasing more than just their sporting ability. It's no wonder the world has gained an interest in the athletes themselves, just as much as the competitions, wanting to know details of their personal lives as well. Lindsey Vonn is no exception. So for those wondering if Lindsey Vonn is single, she has made her current relationship status pretty clear on Twitter recently. While there may not be a special someone in her life, the Olympic skier is far from unoccupied. She has a lot going on.
The Olympian posted to Twitter on Feb. 7 to let her followers know where her focus is right now. "I'm single because I only have eyes for the Olympics," she wrote in a response to Jimmy Fallon's call for tweets answering the #WhyImSingle hashtag. She hasn't been single for too long, though. Her last highly publicized relationship was with pro golfer Tiger Woods, which ended in 2015, according to HuffPost. And she was also romantically linked to Kenan Smith, a former assistant coach with the Los Angeles Rams, from 2016 to 2017, according to Page Six.
Fast forward to today, Vonn found herself single on Valentine's Day, writing, "So apparently it's Valentine's Day....I forgot all about it because I'm at the #Olympics. Anyone else out there single and want to be my valentine?" Many of her followers offered themselves up for the cause, making use of her hashtag, #worthashot.
Users did everything in their power to sway her to choose them — from using adorable nieces as wing-women and showing their cute puppy dog back-up dates. They weren't unrealistic about their chances though, and admitted that the odds of their being chosen were slim.
There Were Some Super Cute Attempts To Steal The Olympian's Heart
One response in particular seemed to catch Vonn's eye, when a sports medicine physician offered her his services.
There's no word on whether or not Vonn found her perfect match over Twitter, but she seems to be doing just fine on her own. Along with being an Olympian, Vonn is also a published author. Her book, Strong Is The New Beautiful goes into personal topics such as body issues, dieting, and exercising. The book even reached The New York Times best seller list for sports titles.
Vonn recently added another feather to her cap: fashion. Under Armour launched its Lindsey Vonn Signature Collection in November, an apparel line under her name. Each piece of clothing in the collection is a nod to a milestone in her life, according to TIME. For example, the Louise Jacket is named after Lake Louise, a place which is nicknamed "Lake Lindsey" after her repeated success there — she's finished on the Lake Louise podium 25 times. She also has a number of other sponsors, including big names like Red Bull, Oakley, and the Hershey Company.
Olympic excellence requires a rigorous workout routine, and Vonn's is nothing to scoff at. Her regular workouts include doing sit-ups on a wrecking ball, weighted pull-ups with a chain tied around her waist, and throwing medicine balls. Her fitness trainer, Alex Bunt told The New York Times that Vonn is dedicated to maintaining her physical fitness. "She never lets a session go," he said. "Every single set and every rep matters. There's no fluff."
If all of that isn't enough, Vonn has also positioned herself as an advocate for girls by starting her own charity, The Lindsey Vonn Foundation. The foundation raises funds for programs and experiences that make it possible for girls to grow and become their best selves, "as athletes, as learners, and as individuals," such as scholarships and other educational opportunities, according the foundation's official website. It is through this cycle of empowerment that the foundation aims to give "the future women of the world the confidence to move mountains." Vonn, herself, is certainly setting a good example for the girls to follow her.
All of this was a long answer to the short question of whether or not Lindsey Vonn is dating anyone. And while the skiing superstar does appear to be on the market, she is far from the spinster cat lady stereotype of loneliness that is often unfairly attributed to single women. She has more than enough going on to keep herself busy and fulfilled, if you ask me.
Check out Romper's new video series, Romper's Doula Diaries:
Watch full episodes of Romper's Doula Diaries on Facebook Watch.