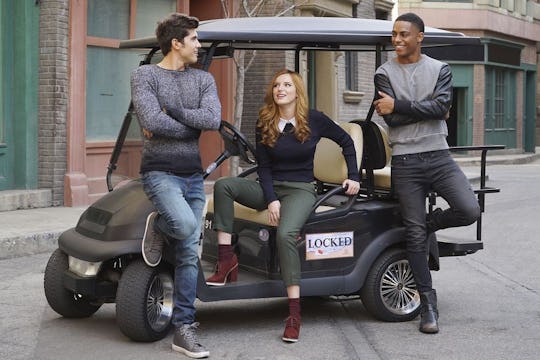 Eric McCandless/Freeform
Is 'Locked' A Real Book Series On 'Famous In Love'?
Freeform's Famous in Love is all about the adventures of normal gal Paige Townsen after she's plucked from her everyday life as a struggling actress to become the leading lady of the major movie adaptation of a YA series. Famous in Love is based on the novel of the same name by Rebecca Serle, but Locked, the book series that inspired Paige's movie, is written by a fictional author named Parker Witter. Despite its series-within-a-series fictional origins, is Locked a real book series?
In a strange loop of fiction and reality, it is. While it originated as a novel within Serle's Famous in Love series, she later adopted Witter's name as a nom de plume to pen her own version of Locked. Serle's fake book became a real one, so now you can pick up a copy and read all about the story that led to Paige's rise to stardom. However, Locked isn't exactly the same as it is in the pages of Famous in Love; it's more of a novella instead of its own series, just intended to give fans a hint of the book their favorite characters acted out. But there have been some changes in adapting Famous in Love for television, which meant Locked also saw some changes in jumping from page to screen.
Though the plot of Locked can seem a little complicated, according to lead actress Bella Thorne, the show has mostly worked out the details. "It's about my character, who's marrying [Jordan's character]," she told TVLine, adding:
I love him, but me and [Rainer's character] had some special connection. So we go on a plane ride, which crashes, and we end up in a different dimension — and then we travel back in time. From what I gather, my character then falls in love with [Rainer's character] by traveling through time with him. There's also [a 'Time Sorceress'] who wants my character to learn something about herself by traveling through time... I think. Maybe?
That doesn't sound convoluted at all. It also might not sound familiar to readers of Locked. Though the novella also contains its fair share of mystery and magic, it doesn't appear to have a time travel component (having not read it myself, I cannot confirm that for sure). It's about a girl who gets stuck on a desert island with her possibly-dead boyfriend's best friend, who might have healing powers and a strange connection to the place they've landed.
It sounds like Locked has seen more than a few alterations in the Freeform series, but its central love triangle will likely still mirror the love triangle at the heart of Famous in Love, regardless of time sorceresses and mystical islands.