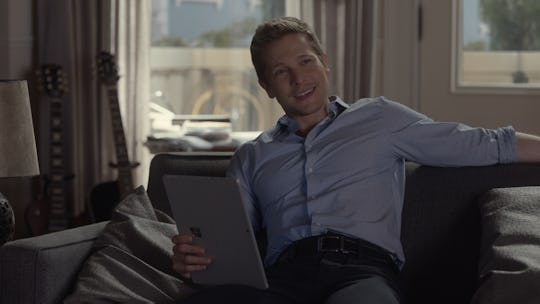 Netflix
Is Logan Single In The 'Gilmore Girls' Revival? It's Never That Easy
(Warning: This post contains spoilers through Episode 3 of the Gilmore Girls revival.) The Gilmore Girls revival is finally here, and with it we get to catch up with all of our favorite (or not so favorite) characters, including the contentious Logan Huntzberger. A couple scenes already call into question what, exactly, Logan's relationship status is. Is Logan single in the Gilmore Girls revival? Well, maybe. He and Rory have a "what happens in Vegas" deal happening.
It looks like when Rory is staying in London, she stays with Logan in his apartment, which is fabulous of course. While Rory is technically dating a man named Paul, who no one, not even herself, ever remembers, Logan is engaged to a mysterious French heiress named Odette. At first, Rory asks Logan if it's "safe" to head into the bathroom, and she's not going to find any evidence of another woman in there that might hurt her. Logan, being Logan, assures her that he wouldn't do that to her. But in the following episode, when she suggests to Logan that she stay in London a little bit longer before heading back to the states, he awkwardly suggests that this would not be a great idea. Odette is coming back into town from Paris, where she lives.
After Odette officially moves in with Logan, things become a little clearer for Rory, as she begins to head back into sleeping with a married Dean territory. She doesn't necessarily want to stay in a hotel and wait for Logan to slip out and meet her, which calls into question what exactly their relationship is. In yet another Dean call-back, it seems a lot like Logan is still very much in love with Rory, and Rory is still in love with him, even though Logan is already in a committed relationship.
There's been a lot of discussion about who Rory would end up with in the revival, be that Dean, Jess, or Logan. While Team Jess definitely had the loudest supporters, the revival gave a those on Team Logan a lot to work with.