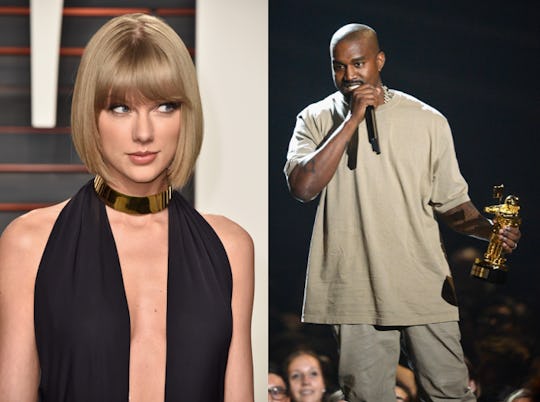 Kevork Djansezian/Getty Images Entertainment/Getty Images // Pascal Le Segretain/Getty Images Entertainment/Getty Images
People Are Convinced Kanye Is The Inspiration For Taylor's New Single
Taylor Swift has become "Famous" for calling out people in her music. So, after the once social media-consistent pop star went silent after a rough year of high-profile feuds, fans only assumed it was because she was brewing up the ultimate response album. And respond, she did. Her debut single, "Look What You Made Me Do," has many buzzing and guessing who the "you" is, and one of the leading theories is Yeezy himself. But is "Look What You Made Me Do" about Kanye West, or is that something fans are just making up?
While it would be fun to chalk this up to the active imagination of music aficionados, there might be some serious proof to this theory. Of course, Swift has not confirmed anything with her social media, which has recently become a platform for theater, versus what used to be a feed that allowed the "Blank Space" singer to share personal photos with fans. Until Swift does confirm who the song is about (which is a pipe dream, really), fans may just have theories to live on.
Many people are narrowing in on the line where Swift refers to a "tilted stage" to be the smoking gun proving that the song is about West. During the Saint Pablo tour, West famously used a tilted stage that hovered over the floor seats in each arena. As seen in the picture above, West is secured onto a stage at a serious angle.
With that said, the real key to decoding a possible meaning behind the song may be the bridge where Swift leaves a faux voicemail in which she says, "The old Taylor can't come to the phone right now... Why? 'Cause she's dead."
Swift's famous phone call with West was released around a year ago by West's wife, and overall (love it, or hate it) icon, Kim Kardashian on SnapChat. In it, fans heard proof that Kanye West got his Taylor Swift-specific "Famous" lyrics approved by the singer before he released the song mentioning her. Keeping this in mind, it the line about Taylor not being able to come to the phone may be alluding to the phone call that took over social media and launched the #KimExposedTaylorParty.
Is this the real smoking gun proving "Look What You Made Me Do" is about Kanye West? Again, nothing can be confirmed, but for fans, it is certainly a fun theory to consider.