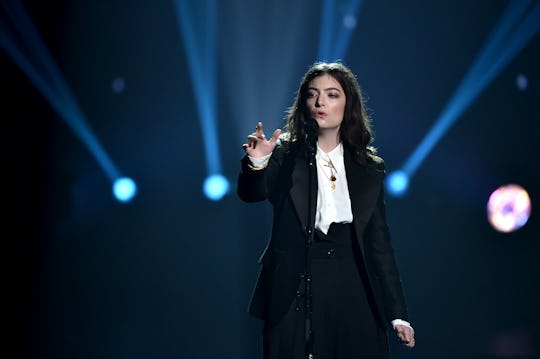 Steven Ferdman/Getty Images Entertainment/Getty Images
Lorde Is Reportedly Boycotting The 2018 Grammys & Her Reason Is Legit
Women are woefully underrepresented in this year's Album of the Year category at the 2018 Grammy Awards, but the category's sole female artist is neither performing during the broadcast nor is she walking the red carpet. So is Lorde at the 2018 Grammys? After a messy clash with the show, she's keeping her involvement understated.
The Grammys received much praise this year for finally diversifying their big four awards of the night after years of criticism in the vein of #OscarsSoWhite. For the first time, Album of the Year, Record of the Year, Song of the Year, and Best New Artist skewed towards hip-hop rather than pop, with hip-hop artists heavily favored to win. Although this year's long overdue emphasis on black artists is important, some believe it's occurring at the expense of making sure women are represented, especially women of color. Adding insult to injury is the fact that, according to Variety, all four male Album of the Year nominees were offered solo performances of their own music during the broadcast — as is customary — while Lorde was only offered a slot in the Tom Petty tribute singing "American Girl." (JAY-Z was offered a solo, but declined to perform. Childish Gambino, Bruno Mars, and Kendrick Lamar, the remaining nominees, will all perform.)
Lorde took umbrage with the fact that she wasn't invited to sing solo, in spite of her prestigious nomination, and countered with a request to sing her own music. The two parties couldn't come to an agreement, so Lorde bowed out from performing altogether and skipped the red carpet to boot. She clearly seems to be fuming over her snub and with good reason. Her mother Sonja Yelich tweeted a photo of a New York Times article last week which outlined how only nine percent of Grammy nominees in the past six years have been women. Yelish captioned the photo: "this says it all." To deny the sole female nominee in the Album of the Year category a chance to perform her music while extending an invite to all the other male nominees in the category is laughably bad optics, even by Grammy standards.
Lorde did seize two opportunities to perform in New York earlier this week, however. According to Variety, she made an appearance at The Ally Coalition Talent Show, a fundraiser benefiting Jack and Rachel Antonoff's nonprofit which seeks to "end discrimination against LGBTQ people by highlighting systemic inequality and LGBTQ-serving organizations and creating opportunities for fans and entertainers to advocate for equality." (Jack produced Lorde's album and the pair performed together at the benefit.) She also performed Stevie Nicks' "Silver Springs" at the MusiCares tribute to Fleetwood Mac, an event which traditionally takes place over Grammy weekend and recognizes artist philanthropy. Needless to say, her rendition of the cult classic was completely electrifying.
It's admirable that in spite of her conflict with the Grammys, Lorde put in face time at Grammys-adjacent events with a philanthropic focus this week. The 21-year-old artist has been remarkably political throughout her career, even though she released her debut album at just 16 years old. In fact, her decision not to perform in Israel in solidarity with the Boycott, Divestment, Sanctions movement earned her some heckling at The Ally Coalition show. (For what it's worth, Antonoff shut that sh*t down before Lorde got the last word in, saying, "I'm sure the Israeli people are very nice and I can't wait to meet them one day.")
Lorde has previously won two Grammys for her debut single "Royals."
Check out Romper's new video series, Romper's Doula Diaries:
Watch full episodes of Romper's Doula Diaries on Facebook Watch.