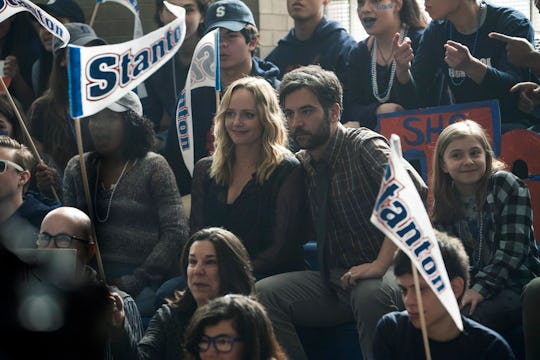 Peter Kramer/NBC
This 'Rise' Character Has Become A Source Of Some Controversy
The upcoming NBC series Rise chronicles a high school production of the musical Spring Awakening, aided by a teacher who rallies his students through song and dance. No, he's not Mr. Schuester. He's played by Josh Radnor, and his name is Lou Mazzuchelli. There has already been some controversy surrounding the character ahead of the show's release. That's because Lou Mazzuchelli from Rise is based on a real person, but with one major aspect completely altered.
Rise is inspired by a true story, but it's very heavily filtered through the lens of fiction. The idea for the series originally came from a book called Drama High: The Incredible True Story of a Brilliant Teacher, a Struggling Town, and the Magic of Theater by Michael Sokolove. The brilliant teacher of the title was Lou Volpe, a real life drama teacher at Harry S. Truman High School in Levittown. According to the Philly Daily News, he worked there for over 40 years and put on numerous classic musicals like Les Mis, Rent, and (of course) Spring Awakening.
Volpe is also gay. However, the Rise character based on Volpe, named Lou Mazzuchelli, is straight and married. The departure from reality has been heavily criticized, though Sokolove has defended Rise since it changed other things as well. He told the Daily News:
The show does not exist without the book. It is inspired by a teacher and a town and a story. The show tracks some of those things, but the characters were [show runner and co-creator Jason Katims'] to create.
There were quite a few fictionalized elements to the adaptation. The setting was shifted to a made-up town called Stanton, and Entertainment Weekly reported that none of the other characters were closely based on real people. But it's hard to look at Lou as just an invention of the series when there are so many other similarities between him and Volpe. When Katims tried to explain the change, his reasons didn't sit well with many prospective audience members, either.
According to Vulture, during the Television Critics Association press tour, Katims said, "We took [the book] as an inspiration, and then I really felt like I needed to make it my own story. With Lou's family life and Lou's family itself, there's a lot of reimagination [sic]. Not just in terms of gay or straight, but in terms of the family structure."
After that, a petition was posted online that urged both NBC and Rise to rewrite the character so Lou's sexuality reflected Volpe's. The petition's author Sarah R. wrote that changing the character's sexuality to make him more "relatable" implied that "if someone is gay then anyone who isn't gay can't relate to their experience."
The backlash caused Katims, along with executive producers Jeffrey Seller and Flody Suarez, to release a statement to Entertainment Weekly which read:
The misinterpretation by some of what we've done with this show goes against what we fundamentally believe and who we are as individuals. We are firmly committed to LGBTQ inclusion, and most of all, are excited for the community to see Rise, which we believe portrays positive depictions of LGBTQ characters and stories on broadcast television with honesty and sensitivity. To that end, we worked with GLAAD on the show's LGBTQ storylines to ensure they are told with respect and authenticity.
The show will reportedly have other characters who are part of the LGBTQ community, even if Lou won't be one of them. While the original inspiration for him may have come from a real person, it seems like Lou has become entirely fictional in the jump from page to screen. The only thing he shares with Volpe now is their career path.
Check out Romper's new video series, Romper's Doula Diaries:
Watch full episodes of Romper's Doula Diaries on Facebook Watch.