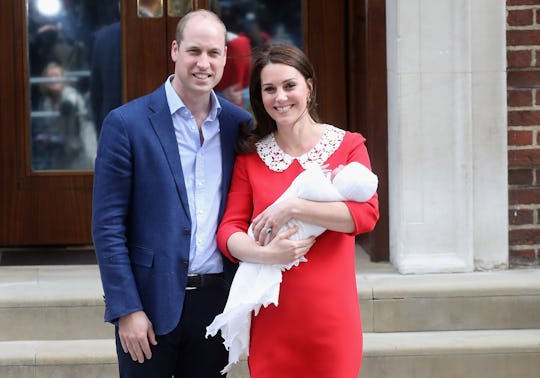 Chris Jackson/Getty Images Entertainment/Getty Images
Here's The Story & History Behind The Name "Louis" In The Royal Family
After four long days of waiting, the Duke and Duchess of Cambridge finally announced their newest son's name: Prince Louis Arthur Charles. The name choice, while very regal and totally fit for a prince, felt a bit unexpected, as many had placed their bets on the names Albert, Arthur, and Phillip. But with the royal family, there's usually tradition behind the inspiration. So, is "Louis" a royal family name and, if so, who are Kate Middleton and Prince William paying tribute to with the newest royal's name?
Kensington Palace issued a statement via Twitter on Friday morning revealing the little royal's name, noting that the "baby will be known as His Royal Highness Prince Louis of Cambridge." It's no surprise to hear that multiple royals have had the name Louis — which means "renowned warrior" in French — over the years. Royal history buffs might recall that Prince Philip — the husband and consort of Queen Elizabeth II and Prince William's grandfather — had a grandfather with the newest royal's moniker, Prince Louis Alexander of Battenberg.
In more recent history and direct lineage, as People noted, Prince Louis' father's full name is "William Arthur Philip Louis" and his older brother, 4-year-old Prince George's full name is "George Alexander Louis."
There is also Prince William's father, Prince Charles, whose great-uncle and reported mentor, Earl Louis Mountbatten, had the same name. He was a British naval officer during World War II and was assassinated by IRA terrorists in 1979, according to the BBC.
So, yes, Louis is a very royal name with both French and German roots and the name's history goes way back as well. But, as Hello! Magazine reported, the royal family's history with it likely starts with Prince Charles' aforementioned beloved uncle, whose full name is "Louis Francis Albert Victor Nicholas Mountbatten." The publication noted that this Louis was "affectionately" known as "Dickie" in the family and was a decorated war hero. What's more, according to Hello! Magazine, he even acted as a matchmaker for Queen Elizabeth II and Prince Philip.
As for the rest of the newest royal's name, there's plenty of royal tribute nestled in as well. For one of his middle names, Charles, it's most likely honoring his grandfather, Prince Charles, the eldest child of Queen Elizabeth II and the heir apparent to the British throne. Arthur, as The New York Times reported, was likely a nod to Prince William and Prince Charles, who both have Arthur in their names, which added that the name may also be a nod to the "legend of King Arthur and the Knights of the Roundtable, a legendary fictional figure admired by British royals."
While many royals have had the name Louis, according to Hello! Magazine, no British king has ever been named Louis. Although it is technically possible that newborn Prince Louis, who's officially fifth in line to the royal throne, could be king some day, it would be a long while before he held the title. Prince Charles is next in line to the throne and Prince William would follow. After them is 4-year-old Prince George, who is currently third in line, and then his sister, 2-year-old Princess Charlotte, would follow. It would take all of those before him to either abdicate from their position, retire, or die before he took on the role of king.
In his four days of life so far, Prince Louis has already made history and his name certainly upholds royal tradition.
Check out Romper's new video series, Bearing The Motherload, where disagreeing parents from different sides of an issue sit down with a mediator and talk about how to support (and not judge) each other's parenting perspectives. New episodes air Mondays on Facebook.