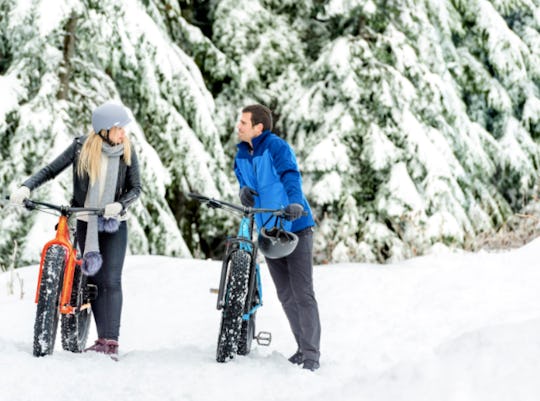 Hallmark Channel
Hallmark's 'Love On The Slopes' Movie Is The Winter Romance We All Need
If you've been bundled up all week hibernating through these snow days, you might start to actually think that Hallmark's latest film Love On The Slopes is based on a true story. I get it — cabin fever can have some serious side effects. Although it's an absolutely adorable movie about, well, finding love on the slopes (obvs.), there's very little about this film that bears resemblance to reality. If only finding true love were that simple.
The film is about a New York City woman, Alex, played by 30 Rock's Katrina Bowden, who works as a copy editor and is sent to the Ridgeline Resort to write a story about extreme winter sports in an attempt to win a spot on the magazine's writing team. This should be your first tip off that this story is totally fictional, since that does not seem like a legitimate way to hire people... but I digress. Once up there, she obviously is really bad at the whole extreme sports thing, because she is not a professionally trained athlete and this is not part of her career aspirations.
The resort owner, Cole, played by Thomas Beaudoin, is an "extreme sports enthusiast," according to Hallmark, and thinks the "city girl should head back" home. But she then offers to help him throw a local arts fest in exchange for his help with snowboarding, and they end up falling for each other.
Of course, when he finds out that he's the subject of an article and not just Alex's new friend, things go awry. But like all good Hallmark movies, the two sort things out in the end.
Although the movie is total fiction, both of the stars actually do have happy winter memories from their childhood. Beaudoin said in a cast video interview that he learned how to ice skate before he could even walk:
My grandparents had a house by a lake and every winter my grandfather would scrape the lake so we had an ice rink and the pictures that came out of those moments were just unreal. I have this vivid image of all the cousins playing hockey with the uncles and aunts on the lake and it was amazing.
Bowden has similarly picturesque memories of snow activities from when she was younger. In her cast interview video, she remembered that her parents would take her and her siblings sledding.
"We had all different types of sleds, we had a sleigh one on metal rails and circle disk ones, and we would just go flying down the mountain without a care in the world, crash into a bank of snow and we were all fine," she reminisced. "We would always get doughnuts and hot chocolate after." That sounds pretty good to me!
The film is supposed to be set in Colorado, but they really filmed in Whistler, Canada. Bowden said in a behind-the-scenes interview that she really had fun filming some of the sports scenes, which aren't all that "extreme." The duo go tubing, skiing, zip lining, rock climbing, and bungee jumping, among others. (OK, bungee jumping is pretty intense.) Beaudoin said that it was fun filming with Bowden. "She's a beautiful woman who doesn't mind making a fool of herself. That's a great quality," he said of her comedic timing. So at least you know that their chemistry is real, too.
Love On The Slopes kicks off the Hallmark Channel's Winterfest, which is just like the "Countdown To Christmas," but without the holiday theme and more... snow. It's safe to bet that most of them aren't based on a true story and are total works of sappy, romantic fiction. But that's the whole point, right?
Check out Romper's new video series, Romper's Doula Diaries:
Watch full episodes of Romper's Doula Diaries on Facebook Watch.