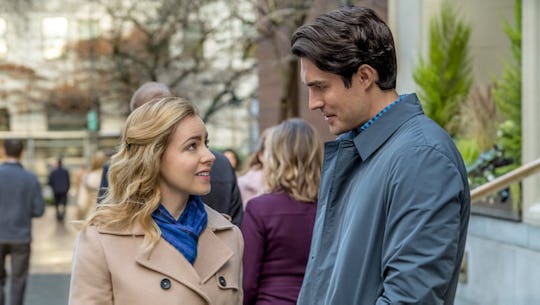 Hallmark
Why Rom-Com Lovers Will Fall In Love With Hallmark's Latest Movie
Sometimes Hallmark movies seem too cheesy to be true, but that's not always the case. Which is why the network's latest project could leave some of you asking: is Love, Once and Always based on a true story or is it a complete work of fiction? The movie centers around Lucy, played by Amanda Schull from 12 Monkeys, whose childhood crush Duncan, played by Peter Porte, plans to tear down a historic mansion to make a golf course. But Lucy has a different idea.
Lucy is determined to preserve the estate. In the process, she ends up working with Duncan and, according to Hallmark, "they learn that embracing the past may be the key to protecting the future." And of course, they fall in love with each other. The chemistry between the two stars is very real. Schull told TVGoodness, "Peter Porte is… I can't say enough wonderful things about him. From the minute I met him, I adored that man. [It] was so much fun to go to work."
She added, "From the second you stepped into hair and makeup, it was a barrel of monkeys. He sings. He dances. He has an incredible sense of humor. There were times when it was almost too much fun."
It was a good thing that they got along, since the two main characters are supposed to know each other from childhood. But while the friendship is very much real, the story, unfortunately, is not, I'm sorry to say. While the concept of falling in love certainly exists, real-life versions of these characters do not.
There was a lot of love on set to go around, though. Schull told Niagara Frontier that doing the film was a no-brainer. She said:
I think it had a lot of elements just from the very first read that I found fun and sweet and very different from what I had been doing recently, and playful. And then, you know, I was not disappointed at all when it came to the other elements; to Peter Porte, who was just so much fun to work with, and such a delight on and off camera. And then also the director, Alan, and producers Ivan and Kim.
It sounds like she and Porte really hit it off, which might be why it may seem like it's based on a true story, even though it isn't. Schull added, "Literally every singe day I found myself laughing to the point of tears. We shot in some really incredible locations and he was always doing silly things or getting me to do silly things that he videotaped."
" He's probably got things on his phone he could blackmail me with," she added. That's what all good friends have, right? Apparently, it wasn't just Porte who made Schull so happy to be on set. If you watch closely, you'll see a sheep on the estate that they got close to as well. Schull explained to TV Goodness:
She had a personality. My final shot of the entire film was with her, and she was done. It was late. She'd been there all day. She relieved herself in the house and walked on out. That was it. She was done.
So the next time you're watching it, keep your eyes on the sheep. Although the movie might seem based on a true story, it unfortunately isn't based on anything that actually happened once upon a time. But with the chemistry, even between the sheep and the actors, does it even matter?
Be sure to tune in for Love, Once and Always on Saturday, March 10 at 9 p.m. EST on the Hallmark Channel.
Check out Romper's new video series, Romper's Doula Diaries:
Watch full episodes of Romper's Doula Diaries on Facebook Watch.