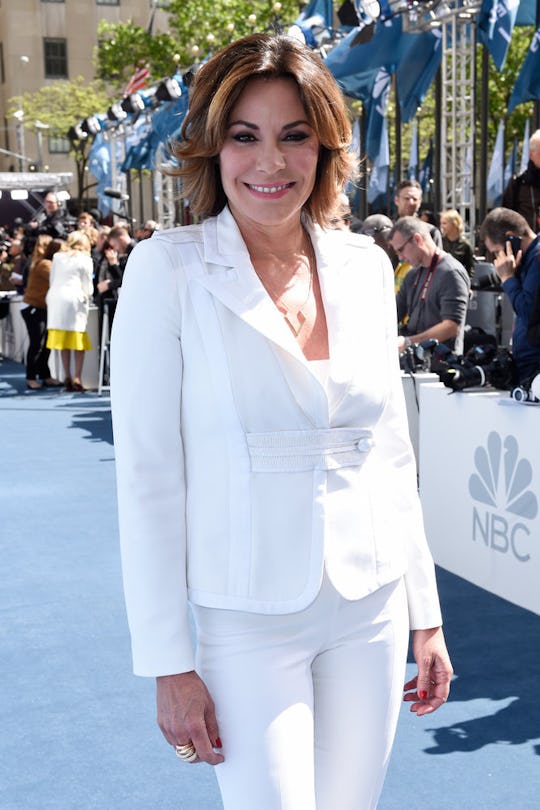 Peter Kramer/NBCUniversal
Is Luann De Lesseps' Fiancé Related To D'Agostino Markets? Tom D'Agostino Has His Own Job
For the past few weeks (in TV time), Luann de Lesseps has been cavorting around Real Housewives of New York's eighth season with one Tom D'Agostino, a man she winds up engaged to after about six weeks of intense dating. Congrats to the (soon-to-be former) Countess and all, but that last name and Tom's considerable fortune have more than a few RHONY fans wondering: is Tom D'Agostino related to the supermarket chain?
For those of you who do not hail from New York, "D'Agostino" happens to be the name of an 83-year-old supermarket chain, which bills itself as "New York's original grocer." But, Tom is actually of no relation to the supermarket D'Agostinos, nor is the supermarket's heir. (And even if he was, it's no guarantee that he'd be financially secure, since the business has been struggling commercially for several years.)
Rather, Tom is a self-made man with his own corporate print industry company called SmartSource, which he serves as the president and CEO of. He travels a lot for business, which lends to that cosmopolitan air of his that drew Luann in early on. Plus, he's never been married, nor does he have any kids, which means he's been racking up considerable wealth with only himself to support.
But his bachelor life is coming to an end with his engagement to Luann. The pair are planning to get married on New Year's Eve (Tom's 50th birthday) in Palm Beach, Florida, where Tom has a house and where he and Lu have spent a significant chunk of their courtship together. Luann wants a three-day-long wedding weekend extravaganza, complete with priests (?), since her first wedding was an elopement. Luckily, based on his very Lifestyles of the Rich and Famous Instagram presence (via Luann's account), Tom seems seriously equipped to handle it.
She may not be marrying a wealthy grocery store heir, but Luann's fiance seems financially stable and secure enough to continue supporting the lifestyle to which both of them have become accustomed. For her part, Luann says she has no qualms giving up her Countess title and moving forward from that part of her life.
"I've had that title for so long. I had a great marriage, and it's still part of who I am," she told E! in an interview. "But I'll be Mrs. D! Instead of de Lesseps, I'll be Mrs. D'Agostino."