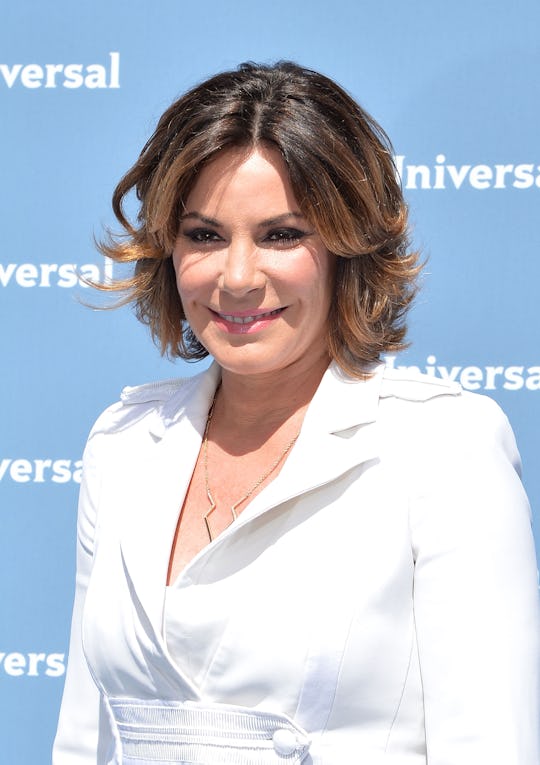 Slaven Vlasic/Getty Images Entertainment/Getty Images
Is Luann De Lesseps Still Getting Married? The 'Real Housewives' Star Can't Wait To Wed
Can you hear the wedding bells chime? If you were at all worried about the future of our dear Lu on Real Housewives of New York — specifically the future of her relationship with new love, Tom — then fear not. Despite what the haters may say about Tomann, a couple name I just came up with so bear with me, Tom D'Agostino and the Countess (for not much longer) are walking down that aisle. Yes, Real Housewives' Luann de Lesseps is still getting married, and I can't wait to see the wedding that take place (preferably with Andy Cohen running the show).
Throughout the season, Luann's level of happiness has grown exponentially. What started as a season where she discussed extra dental happenings, has resulted in a blissful bride-to-be, conversing about the man she loves. And you can't blame her. Luann deserves to find happiness, and it seems that that is exactly what has happened. The Housewife, who is expected to marry on New Year's Eve, according to Page Six, couldn't be more excited about her upcoming nuptials. Unfortunately, that special day is slightly tainted by the reception that the good news has received by some of the fellow cast members, who have somehow turned Lu's exciting news into stuff about them.
"Why is it that when I'm happy, some of the girls feel the need to bring me down?" Luann asks in her blog on Bravo's website. It's a rather upsetting question, since your friends should be there for you to build you up and celebrate you during the exciting times in your life. She later says, "I was ready for the girls to bring up Tom's dating life before he met me, but I was still surprised when Sonja said she'd been 'friends with benefits' with him for 10 years."
Luann is not ignorant to the reason for the negativity, at least in her eyes. After a rather abrasive argument with some of the women, and an apology from Carole, Luann sums up that some of the other women are just jealous of her situation. She says, "I think they are jealous that I found my soul mate and that I'm getting married."
In the meantime, the airing of the show seems to not have slowed down Tomann. The two look happier than ever, and I have no doubt that their wedding will be as cool and as chic c'est la vie as one could expect.