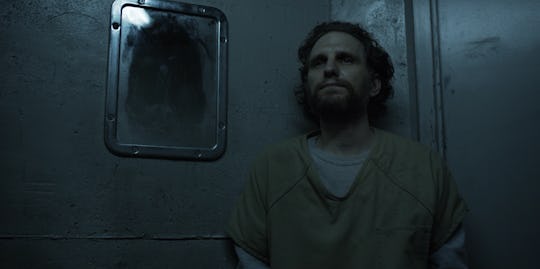 Netflix
Is Lucas Goodwin Dead? His 'House of Cards' Season 4 Return Was Brief
We haven't seen Lucas Goodwin, the journalist who took up avenging former flame and colleague Zoe Barnes' murder as a hobby, since the end of Season 2. That stunt landed him a 10-year jail sentence for daring to cross the Underwoods. (Warning: spoilers ahead!) Unfortunately, Season 4 of House of Cards finds Lucas dead. Not only that, but all his former allies at Slugline and the Washington Herald — intimidated by the Underwood regime, in spite of the overwhelming evidence they have of Frank's tiny murdering habit — have been forced to give statements completely discrediting Lucas and his work.
In Season 4's premiere, we learn just how miserable the former journalist's jail sentence is, but quickly find out the FBI plans to release him into witness protection if he turns over information on his cellmate. Unfortunately, once Lucas is free, he just can't let go of his crusade to expose Underwood, in spite of having no proof, no allies, and no one willing to take up his cause — especially former U.S. Solicitor General and 2016 Democratic nominee Heather Dunbar, whom Lucas personally solicits (puns!) for help on the campaign trail.
With all of his resources for exposing Frank exhausted, Lucas is gutted. In the bombshell moment of Season 4, he shows up to an FU2016 campaign event with a gun and takes aim at the President, shooting him twice and fatally wounding Meechum (MEECHUM, NO!), before Frank's most trusted body man takes Lucas out himself with his final breaths.
Information about Lucas quickly hits the media and a frantic effort by the administration gets underway to a) figure out who at the DOJ to blame for letting this guy with an apparently deadly ax to grind against POTUS out of prison, and b) bury the suicide note Lucas left behind, which is found and cataloged by the FBI before Doug gets a chance to bury it. The note details all the information about Frank, Zoe, Doug, and Rachel Posner that Lucas has uncovered.
The White House, with the help of an Oscar-worthy press conference given by Claire, dismisses Lucas as a mentally-ill conspiracy theorist who snapped. And, with no one left willing to go to bat for him, in spite of efforts by intrepid journalist Kate Baldwin to dig up info, Lucas goes down as exactly who the White House paints him as.
So, is the truth about Zoe and Frank and Doug and Rachel buried forever with his death? Kate seemed to give up suspiciously easily when grilling former Washington Herald editor-in-chief (and former boss-to-both Zoe and Lucas) Tom Hammerschmidt. Plus, Tom and Janine Skorsky still know the truth is on Lucas's side; they're just too smart (read: terrified of the Underwoods) to go public with the information for now. The threads just feel too neatly tied up by House of Cards standards. And Frank doesn't consider a story dead until all the evidence is buried.