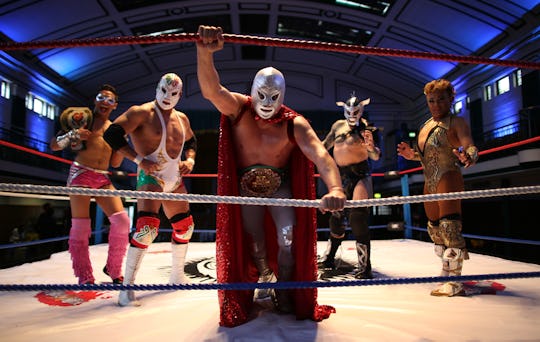 Peter Macdiarmid/Getty Images News/Getty Images
Is Lucha Kaboom A Real Thing? The 'Fuller House' Wrestling Match Is Part Real, Part Fake
The Tanner family was known to attend some wild events in Full House, and Fuller House is continuing the tradition. In the sixth episode of the season, Stephanie earns some auntie points by scoring tickets to Lucha Kaboom. What's Lucha Kaboom, you ask? Well, according to D.J.'s eldest son Jackson, it's a Mexican wrestling match that has, "crazy outfits, crazy stunts, and crazy chickens." So, basically, it's a Mexican WWE with a little extra poultry. Of course, being the curious journalist I am, I found myself wondering if Lucha Kaboom is a real thing and, if so, how can I get tickets.
OK, I really didn't want to know the latter. I'm more of a boxing girl than a wrestling efficianado. But I did want to know if Lucha Kaboom was based on a real event, or if the Fuller House producers were simply feeling creative. Turns out, it's a little bit of both.
After scouring through the deepest depths of the Internet, I wasn't able to find an exact match for Lucha Kaboom. I was, however, able to dig up information on a similar wrestling match called Lucha Libre. According to the official site, Lucha Libre is, "action-packed, high-flying Mexican wrestling." (Luckily, no mention on their site about chickens.) There is even a television series, Lucha Underground, which offers fans an inside look at the world of Mexican wrestling. But if you don't have access to the Rey Network, you can still some snippets of the action on Lucha Underground's Twitter page.
And, like the Fuller House version, Lucha Libre features "mini" fighters.
Though this isn't my cup of tea, I'm sure there are those who find the world of Mexican wrestling (and wrestling in general) fascinating. And if you happen to be one of those people, then you're in luck. You can buy tickets to the Lucha Libre tour, Masked Warriors, through their site. Or, if you're like me, you can settle for Fuller House's knock-off version.