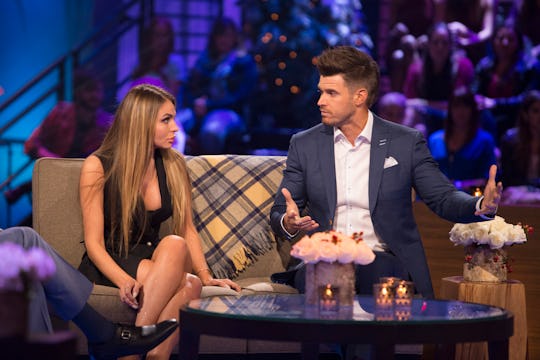 Paul Hebert/ABC
Luke's Love Life After 'Bachelor Winter Games' May Not Be What You Expect
Luke Pell may not have found love on JoJo Fletcher's season of The Bachelorette, but it definitely looked like he found it on The Bachelor Winter Games. That is, until the show ended, apparently. So is Luke single after Bachelor Winter Games? It doesn't look like he fell in love with Stassi on the show, but that doesn't mean he didn't fall in love with somebody else once he had returned back home. In fact, according to rumors, there is a special someone in his life.
Way back in April, Reality Steve posted on his spoiler website that Luke had started dating a woman named Holly Allen back in the spring of 2017. Now according to the rumors, Luke is still dating the same woman. Reality Steve even reports that he never broke up with her. Now, I am obsessed with all things Bachelor but I'm not so obsessed that I have been tracking Luke's every movement and every hook up. So I cannot independently verify that this story has any truth to it. However I can say that it definitely doesn't look like he's still dating Stassi. For one thing, he has not posted a single photo of her, even on the show, on his Instagram.
Editor's Note: The Instagram post has since been deleted.
Generally, when someone goes on a Bachelor show, their Instagram accounts are filled with pictures from the show and of whoever they were dating at the time. Even if they're no longer with that person. Luke's Instagram, on the other hand, features a whole lot of Luke, with not a single picture of Stassi — or even many pictures with other cast-members. For what it's worth, Stassi's Instagram does not include any pictures of Luke either. And to be honest, based on what was already shown on the reunion of how they ended things, I can kind of understand why.
Before the show aired, Entertainment Tonight released a clip from the reunion, in which Stassi is seen confronting Luke about his treatment of her after filming wrapped up. According to her, he didn't try to get in contact with her, didn't seem to care if they ever saw each other, and didn't seem to think that what they had on the show was real. Stassi tearfully tells him that it wasn't a game for her and that his cold behavior was painful. I'd jump in with a defense of Luke here except he doesn't seem to even attempt to defend himself. He simply says, "Yeah," and looks off into the distance.
Based on this information, it certainly looks as though Luke was not on the show for the "right reasons." The right reasons being to find love. The wrong reasons being to promote one's own personal brand and/or entertainment career. Seeing as Luke is working towards promoting his career as a country music singer, well it kind of makes sense. But that's all that I'm really going to say about that.
As far as the rumors regarding any other relationship goes, well he hasn't confirmed anything of the sort on his social media accounts either. So at least Stassi isn't alone in being the only woman he doesn't post on his 'gram. I do believe that after this reunion show, Luke's reputation among Bachelor Nation is most likely shot. In this case it's possible that he'll appear on Bachelor in Paradise, perhaps this time as a "villain" cast-member, but I think his chances of ever becoming the lead on The Bachelor are probably done.