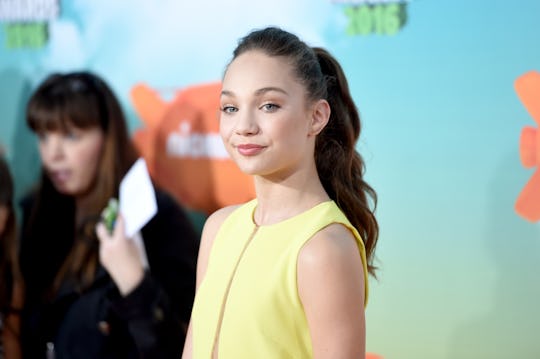 Jason Merritt/Getty Images Entertainment/Getty Images
Maddie Ziegler Has Her First Movie Coming Out
It's not often that a reality star transforms their 15 minutes of fame into a bona fide, respectable career, but things look like they're heading that way for the breakout star of Dance Moms. Maddie Ziegler is going to be in a movie, and we're not talking about some direct-to-DVD bomb, either. The Book of Henry has some serious names attached to it, and if you don't mind crying in front of a couple hundred strangers, you can catch it in theaters on June 16. The film is directed by Colin Trevorrow, who you might know from Jurassic World or the upcoming Star Wars: Episode IX.
According to Seventeen, the movie stars Naomi Watts as Susan, a single mom whose intellectually gifted son, the titular Henry (Jaeden Lieberher), is the real adult in the house. Room's Jacob Tremblay plays Henry's younger brother, Peter. Ziegler stars as Christina, the girl next door. And yes, she will apparently be doing some dancing, but dance isn't the focus of the plot. Vanity Fair calls the movie "a hauntingly beautiful story about love and loss," but to me, it looks more like a thriller that will make fans laugh, cry, cheer, and possibly never look at Breaking Bad's Dean Norris the same way again.
First, the laughs: Refinery 29 reported that there are at least two jokes in script, and Sarah Silverman plays Watts' best friend, so that seems promising. As for the rest of it, Henry discovers that there's some sort of abusive situation going on with Christina and her stepfather, played by Norris, who also happens to be the local police commissioner. Unable to help Christina through traditional channels because of her stepfather's status in the community, Henry and Susan hatch a plan that appears to involve a rifle and at least one Rube Goldberg machine.
It's seems like a remarkable role for a 14-year-old whose only previous on-screen experience is reality TV and a handful of music videos, but then, Ziegler is actually pretty remarkable, herself. Becoming an accomplished dancer at such a young age takes a tremendous amount of discipline, and although she's been trailed by cameras since she was just 8 years old, she's yet to spiral out of control like so many other young stars. And despite frequent baiting, she's always spoken about her former Dance Moms teacher, the often-intense Abby Lee Miller, with nothing but grace. The Book of Henry surely won't be Ziegler's last movie.