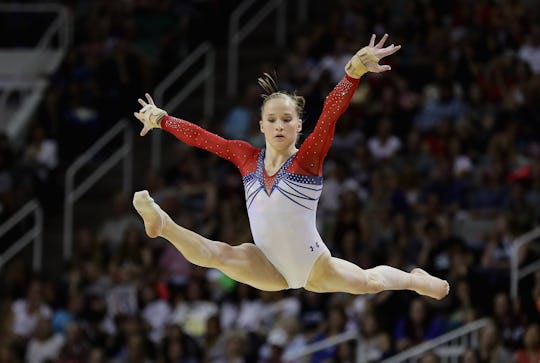 Ezra Shaw/Getty Images Sport/Getty Images
Is Madison Kocian In College? The Texan Has Moved Around
During the London summer Olympics in 2012, the Fierce 5, the aptly selected nickname for the winning American women's gymnastics team, had everyone under their spell. Not just because they were really good and took home the new medal, but they were also just a fun group of young women to watch interact with each other. The old crew is broken up now, as some of its members have retired, but there are new women, like Madison Kocian, who is in college, ready to take the reins and bring home the gold once more.
Kocian is currently enrolled at the University of Florida and set to graduate in 2019. Earlier this spring though, she showed up to the U.S. Olympic Committee media event on crutches and with her leg in a cast. She said that she had hurt her leg at a national team even in February and that it wasn't anything major, but it did stink to be off the mat. "I'm just trying to look at the positive, and it's better that it's happened now than the summer or something like that," she said. "It's nothing like major, so I know I can come back stronger and I'll be ready for all the meets coming up."
But even with a broken ankle, she still made it on the team for this summer's games — which is not an easy feat.
Her strongest event is the uneven bars, so all she needed was to get her ankle healthy for a dismount. During the Olympic trials, she also had a few rough moments, but she managed to keep a good attitude, telling UCLA reporters,
After beam it was disappointing but I still had a pretty good score, and my coach told me to move on from it. It's not going to set me back or anything. I just went out and did the best that I could on floor, and my bars tonight was phenomenal, so I'm excited to go out of this with no regrets.
Kocian is pretty hardcore. Already, she's starred in an Under Armour ad showing clips of her training, and it proves that what all of those women do is pretty insane. The 18-year-old might be on her way to making Olympic history again with the likes of Simone Biles, Gabby Douglas, Aly Raisman, and Maggie Nichols.
In 2012, the media dubbed the team the "Fierce 5," but it looks like the girls are already trying to think of a new moniker for their crew in Brazil — Aly Raisman tweeted earlier this summer, "We need help thinking of a team name!!! Who's got some ideas!??!?!" and tagged her teammates. That's the kind of team spirit we need.
These girls work crazy hard to be so good at what they do, it'll be fun to watch them compete in Rio next month — not to mention awe-inspiring.