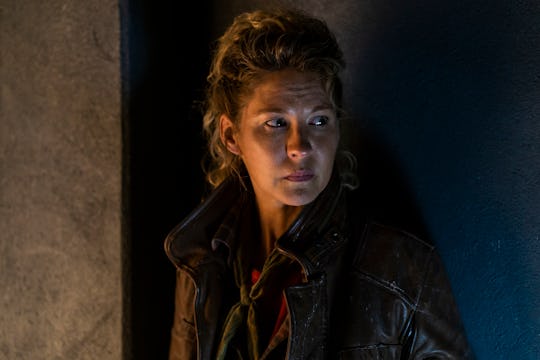 AMC
Nobody Wants Madison's Death To Be Real On 'Fear The Walking Dead'
Just when Fear the Walking Dead couldn't get more outrageous, its main character Madison Clark died. But this is a zombie show and stranger things have happened on this show. So is Madison really dead on Fear the Walking Dead? Fans may have their suspicions.
Unfortunately, it seems like this one is legit and Madison is, in fact, dead. How do I know? Well, Kim Dickens — the actress who plays Madison — has left the show. She said in an interview with Entertainment Weekly that she was heartbroken over producers' decision to kill off the character. She found out around a month before shooting began. "Obviously it was shocking to me and it was disappointing. It was heartbreaking. I have loved this character, I've loved playing this character, I've loved this show, and I'm so proud to have been a strong female empowered lead of a genre show," she told EW. She added, "She was a mother too — a mother who was ferocious, and I just thought it was just such an honor to get to play her."
Madison died by sacrificing herself for her children and I say the showrunners made the right move by having that be the way she went. Despite her death scene, however, some viewers believe (hope) that Madison will return to the show or that she's not really dead. Well, Kim Dickens confirmed that she was leaving in an emotional Instagram post.
"It's been an honor to play such a strong, badass, empowered, fierce leader," the caption read. "I'll miss playing Madison Clark but she will always be with me." There you have it! Madison is indeed dead. I know there will still be fans who hold out hope that she returns, but I will say it's certainly not likely. There are a few reasons for this that all boil down to producers wanting a different direction with the show's storytelling.
In an interview with Entertainment Weekly, Fear the Walking Dead showrunners discussed Madison's death and why they chose to kill her off. Showrunner Andrew Chambliss told EW, "The story we're telling is a story about hope and people losing hope, and then finding it again." Madison's sacrifice for her children represented that for them. Fellow showrunner Ian Goldberg commented that "the thing Madison fought for, the thing that she gave her life for was a philosophy about a way of living and treating people in this world that she left behind in the people that survived her."
Furthermore, the show may be shifting away from Madison and her family. Now, the only Clark left on the show is Madison's daughter, Alicia. Fear the Walking Dead Season 4B posters don't show the Clarks, but rather Morgan. This could also symbol that the show will now be focusing on his journey instead. When asked about the direction of the show, Ian Goldberg posed a question about Morgan to EW. "Morgan didn't want to be with people, now he is. What is that gonna mean for him?"
AMC actually released the first four minutes of the Fear Season 4B premiere, where Morgan is prominently featured. What's also featured is the impending storm that will be building up. Not only will the characters need to fight zombies, but they now need to fight the weather as well. Seeing as Fear the Walking Dead has been renewed for Season 5, there will be a lot more of this world to explore. Unfortunately, Madison Clark will not be a part of it. But if no one died on a zombie apocalypse show, it wouldn't be that great of a zombie apocalypse show, would it? So fans will certainly miss Madison, but there are a lot more zombies and fights and survival tactics to look forward to.