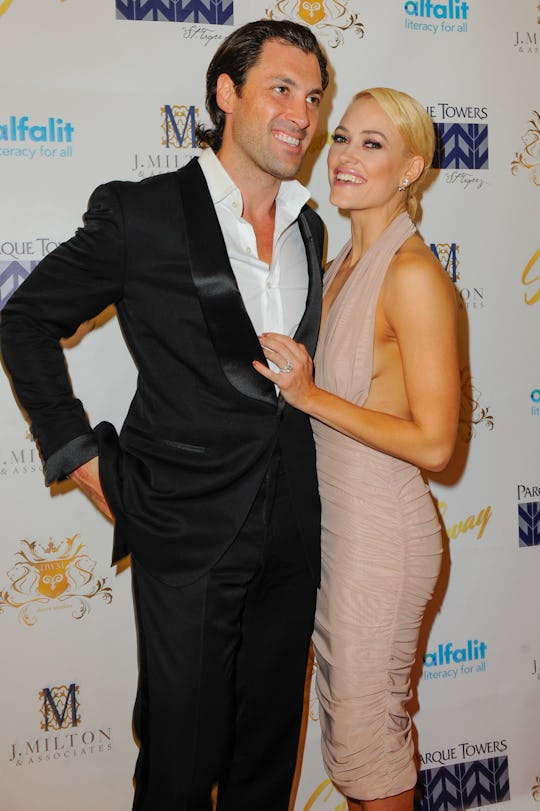 Sergi Alexander/Getty
Is Maks Leaving 'Dancing With The Stars'? He Just Wants To Be A Stay-At-Home Dad
On this season of Dancing With the Stars, fan-favorite pro Maks Chmerkovskiy is partnered with Amber Rose, but somehow I'm getting the feeling that this competition is not exactly the number one thing on his mind right now. His fiance, fellow Dancing With the Stars pro Peta Murgatroyd, is pregnant, and from the sounds of things, Chmerkovskiy really, really can't wait to be a daddy. And this is the reason that Maks is leaving Dancing With the Stars. Honestly, he just wants to focus on his newborn kid.
In an interview with Bravo's The Daily Dish, Maks was extremely clear when he said he had "zero interest" in returning to Dancing With the Stars next season. After winning the Mirrorball trophy in Season 18 with partner Meryl Davis, Maks took a two year hiatus, occasionally showing up now and again as a guest judge or to cheer on his brother, Val, who is another fan-favorite dancing pro. Now that he's back, Maks seems happier than ever with his decision, but it's still not going to bring him back next time. "First of all, like I've already said, I'm having the best time of my life on Dancing with the Stars. It's a known fact. I've said it. I was quoted as saying the production is on point. I feel the love," he explained.
Maks continued on by saying:
I promise, I'm so glad that I made this decision. But like I said [I'm] looking forward. The baby comes in January and then a month-and-a-half later I would have to be in L.A. to start training with somebody else. Trust me, I really don't care how this comes across, but there's no money on the planet that can replace me missing out the three, four, five months of my baby's life. Zero chance. I can't wait for all of this, diapers, and all of this stuff. I cant wait for Peta to pursue her goals and whatever and I just want to be a stay-at-home dad.
It's certainly a luxury for new parents to be able to take enough time off of work following the birth of their child in order to really bond and take care of the kid 24/7. I think it's awesome that Maks is prioritizing his family over dancing. And I think he'd make an amazing stay-at-home dad!