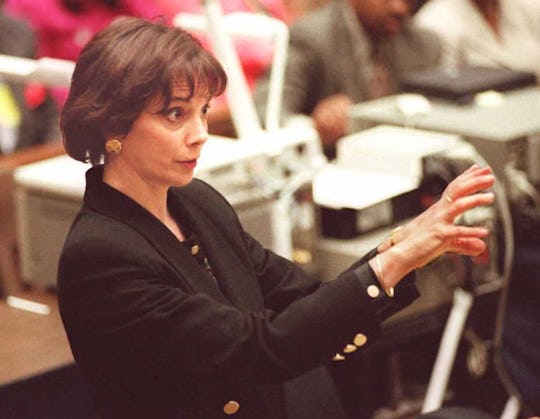 POOL/AFP/Getty Images
Is Marcia Clark Still A Lawyer? She Left Law After A Successful Career
Marcia Clark made headlines as the prosecutor in the O.J. Simpson trial. Now, Sarah Paulson is reviving the perm and pantsuits in The People v. O.J. Simpson: American Crime Story. Though the trial is decades old, the nation is still transfixed by the court battle that transformed attorneys into celebrities. Is Marcia Clark still a lawyer? She's definitely still writing about it all, but she doesn't actually work in law anymore.
Before the Simpson trial, Clark was already a successful prosecutor; according to The Guardian, she'd won 19 murder trials and only lost one. But after Simpson's acquittal, Clark decided to shift her focus. Her new identity as a public figure made it difficult for her to return to work as a prosecutor. Clark opted to embrace the attention, taking hosting jobs in TV and radio. She still "works on appellate court-appointed cases," according to Vulture, but Clark is primarily a writer. She got her start working as a consultant on Lifetime's For the People, Vogue reported. Drafting scripts prompted her to pursue a career as an author. Clark's seven books for sale on Amazon all focus on crime and the law. Her latest book, Blood Defense, will debut on May 1. Clark told Vogue that she put a bit of herself into the novel:
My new series starts with Blood Defense, and the lead is Samantha Brinkman, a criminal defense lawyer who has a kind of twisted view of justice and a very troubled past. I have to say that I did draw on life experience. The cases I've handled on both sides of the counsel table are interwoven into all of these stories.
As she prepares for the book's release, Clark is also coping with the upswing in attention following the premiere of American Crime Story. She told Vulture that it's difficult to experience the trial again, but she's hopeful the series has a meaningful impact:
This is such a weird time. It is extremely painful to live through this again. But I understand the series is going to explore the racial aspect of the case, which is very important. I just hope that in addition to that, it reminds us there were two victims here. Everybody seemed to forget throughout the trial that there were two innocent people who lost their lives. And whatever you think of Simpson's guilt, it's a tragedy because no one has been brought to justice for it.
Clark isn't letting the show speak for her: according to Vogue, she's rereleasing Without a Doubt, her memoir, with a revised foreword. Clark told Vogue that, in reevaluating her views on the trial, she's able to see a partial positive outcome:
To me, one of the big silver linings of the Simpson trial is the advances we've made in understanding domestic violence as a lethal problem. Before that trial, I think there was a widespread sense that it was a family affair, a normal part of a relationship, not really a crime. The reality is that it's very much a crime, and a very serious one. I wanted to mention that: Something good did come from the trial at the end of the day.
Those who want to get into Clark's head don't have to rely only on The People v. O.J. Simpson. Through her memoir and her novels, Clark gives audiences a powerful look at what it actually takes to be a prosecutor.