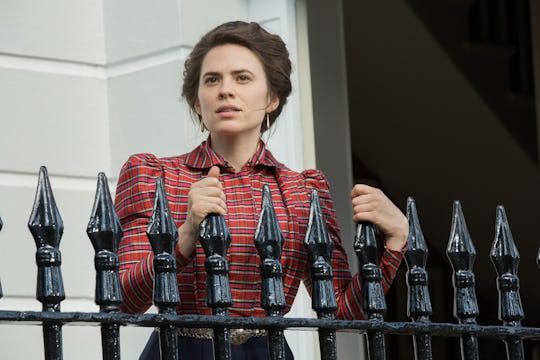 Starz
The Inspiration Behind Margaret Schlegel From 'Howards End' May Surprise You
I am an unabashed superfan of period dramas, especially those with strong-willed women at the forefront. So obviously I'm extremely excited about the new miniseries Howards End that's premiering on Starz and I'm already anxious to get to know some of the characters, particularly Hayley Atwell's character, Margaret. So is Margaret Schlegel from Howards End based on a real person? She's the star of the story, but if you were hoping for more fact than fiction then I'm sorry to disappoint you because the whole piece is completely fictional. The series is based on the masterful novel by E.M. Forster, who wrote other classics like A Room with a View and Maurice.
The plot follows upper middle class sisters Margaret and Helen Schlegel as well as their entanglements with the wealthy Wilcox family and the working class Bast family in pre-World War I London. Rather unusual for the time, Margaret and Helen, who live with their aunt, freely espouse liberal points of view, and directly confront issues of class and money. Though Margaret is not based on a real person, the ideas and attitudes she holds mirror what her author, Forster believed. A Reader's Guide for the novel by Penguin Random House goes into a little more detail on author Forster's inspiration for the novel and where his characters, particularly Margaret, and their ideals came from.
According to the guide, Forster was introduced to liberalism at Cambridge, where he was inspired by the humanism of George Moore, who advocated for cultivating personal relationships as an antidote to the "rootless, mechanistic ethos" of the age. Forster enjoyed a lifestyle like the Schlegels, filled with art and literature and conversation. The character of Margaret developed when Forster began to feel that his society was too narrow and too disdainful of the material possessions that made his life possible. This explains Margaret's pragmatism. In the book and in the series she becomes attracted to the wealthy Henry Wilcox, who her sister Helen disdains.
Thus, Margaret Schlegel is not a real person, but her character was certainly drawn from Forster's own real experiences and his own observations. Considering the themes of the story, Margaret and her sister Helen, might almost be seen as human representations of the changing and dissolving class distinctions happening during the era. These women, after all, are members of the liberal-minded middle class who bridge the gap between the wealthy Wilcox family and the poor Bast family.
A glowing review of the miniseries in the San Francisco Chronicle praises everything about it, calling attention to writer Kenneth Lonergan's "simply stunning" script and Hettie MacDonald's "briskly economic direction" which moves at a rapid pace but still communicates the series's themes without feeling rushed. The review further praises the acting in the series, stating: "Every performance is spot-on, especially that of Atwell, who is captivating and engagingly intelligent as Margaret Schlegel."
Considering the fact that the miniseries comes after a well-beloved film adaptation of the book, starring Emma Thompson, Helena Bonham Carter, and Anthony Hopkins, this kind of across-the-board praise is serious indeed. Devotees of one version of the story may not react that positively to an adaptation. (If you don't believe me, just ask any BBC Pride and Prejudice fan what they thought of the Keira Knightley version.) But so far, it looks like the series has real potential and definitely worth watching.
No, Margaret Schlegel didn't technically ever exist, but her story about class divisions is still relevant today as it was in the early 1900s. And I obviously can't wait for this show.
Check out Romper's new video series, Romper's Doula Diaries:
Watch full episodes of Romper's Doula Diaries on Facebook Watch.