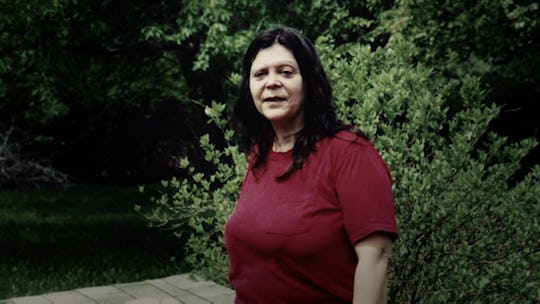 Netflix
Netflix's 'Evil Genius' Explores The True Crime Case Of The Pizza Bomber Heist
On May 11, a new true crime series debuts on Netflix that takes a closer look at an especially strange case. In 2003, pizza delivery man Brian Wells was forced to rob a bank in Erie, Pennsylvania with a bomb locked around his neck. If he didn't follow his captors' instructions, it would go off. Wells was killed when the bomb detonated, and years later the whole story unravelled. A woman named Marjorie Diehl-Armstrong was arrested for her part in the plot, but is Marjorie Diehl-Armstrong still in jail?
She is no longer in prison, but it's not because she was released. According to the New York Daily News, Diehl-Armstrong passed away in April 2017 while still serving time at the Federal Medical Center-Carswell in Forth Worth, Texas. GoErie reported that her death was caused by breast cancer. She was 68 years old and had been carrying out a life sentence plus 30 years for the robbery and Wells' death.
GoErie also reported that two weeks before passing, Diehl-Armstrong became unresponsive, though her "vital signs were stable" and she was able to breathe on her own. It seemed her health had been in a steady decline for weeks, in part because she refused chemotherapy and most food, allegedly "only eating Jello." A federal Bureau of Prisons' medial report is quoted as saying Diehl-Armstrong "refused any kind of medical care offered to her."
Diehl-Armstrong was not immediately apprehended for her involvement in Wells' death and the scheme to rob the bank. She was indicted in 2007 along with friend Kenneth Barnes and ex-boyfriend William Rothstein (who has also since passed). The New York Daily News indicated that investigators had determined that Rothstein made the bomb Wells wore using two of Diehl-Armstrong's egg timers. Rothstein then ordered pizza to get Wells to an isolated area where the explosive device could be placed around his neck. He was handed two pages of instructions that delineated tasks he had to carry out so the bomb could be defused. It seems prosecutors believed Wells could have been involved in the planning, though he thought the device was a decoy. That is unconfirmed.
Wells' death and the surrounding events were not the only crimes Diehl-Armstrong and Rothstein committed together. In fact, Diehl-Armstrong had already been serving time in 2007 for the murder of her ex-boyfriend William Roden, whose body was discovered in a freezer in Rothstein's garage after Rothstein himself reported it. Diehl-Armstrong had also been acquitted of killing someone else, ex-boyfriend Robert Thomas, in 1984; she had claimed it was self-defense. The alleged motive for the bank robbery, as stated by InTouch Weekly, was that Diehl-Armstrong needed $250k to hire a hitman to kill her father.
The story of the pizza bomber bank heist is one that takes quite a few complicated turns before it resolves, which makes it a fitting candidate for more in-depth analysis on Netflix. Rothstein, Barnes, and Diehl-Armstrong shifted blame amongst each other while in custody following their various arrests and before Rothstein's death. It seems as though both Rothstein and Diehl-Armstrong were named ringleaders of the plot at different points; Rothstein was the one who crafted the homemade bomb, but Diehl-Armstrong was allegedly the one with a motive. Perhaps Netflix can shed some light on the situation.
Diehl-Armstrong was always insistent that she was innocent and not mentally competent to stand trial, according to CNN; she was found competent after undergoing treatment. "I am not a crazed killer," she was quoted as saying at her sentencing. "The true killers are still out there."
Diehl-Armstrong had tried to appeal her conviction, but CNN reported that it was rejected by the Supreme Court. She remained in jail for the rest of her life.
Check out Romper's new video series, Romper's Doula Diaries:
Watch full episodes of Romper's Doula Diaries on Facebook Watch.