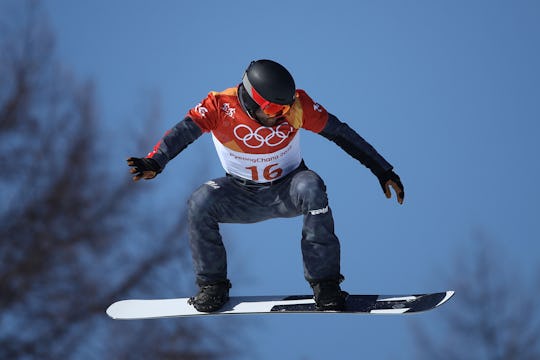 Cameron Spencer/Getty Images Sport/Getty Images
Austrian Snowboarder Markus Schairer Suffered A Serious Injury At The 2018 Winter Olympics
It's no secret that many winter Olympic events come with significant safety risks to competitors. Whether athletes are plunging head-first down an icy track at 80 mph during the skeleton, or they're performing impressive arial acrobatics on a snowboard during the slopestyle — one wrong move could prove catastrophic. Today, one Olympian experienced this terrifying reality first-hand. As People reported on Thursday, one Austrian snowboarder broke his neck at the 2018 Winter Olympics and whether Markus Schairer is OK following his horrific crash in PyeongChang is certainly on many people's minds.
The scary accident unfolded today during the quarterfinal heat of the men's snowboardcross event. Toward the end of the run — on the second-to-last jump — Schairer lost control while in the air and ended up crashing. The Olympian landed on his back, with his head snapping back at such a force that the googles broke off his helmet, People reported. Minutes passed, during which the snowboarder was unable to move.
Ultimately, though, Schairer got up on his own power and, get this — he even managed to cross the finish line. As NBC News reported, the 30-year-old was taken to a hospital after the accident, where it was revealed that he broke the fifth cervical vertebra in his neck. The Austrian Olympic committee said in a statement that there doesn't seem to be any signs of long-term damage or neurological impairment, according to the network. (Whew!)
Schairer isn't the only athlete to take a serious fall during the 2018 PyeongChang Winter Olympics. Emily Sweeney's luge crash stunned crowds during the women's singles competition on Tuesday. The Team USA competitor bounced off walls before crashing and sliding to a stop apart from her sled. Like Schairer, Sweeney was able to leave the track on her own power. And fortunately, she only seemed sore and bruised. "I'm very sore, and pretty stiff," she told NBC News after the accident. "I'm going to get an X-ray on my back after this, but I wanted to have the last word. So thanks for all the support, you guys. It's a bummer, for sure, and I know that I'm better than that. But here we are — it happens."
Also on Tuesday, Japanese competitor Yuto Totsuka crashed during the men's halfpipe snowboarding final, reported TIME. The 16-year-old was able to sit up on his own, but was then carried away on a stretcher following the scary fall. Take a look for yourself.
USA Today reporter Rachel Axon shared the details of Totsuka's crash via Twitter, writing, "Too far out of the pipe high up and hit the lip before falling to the flat bottom. So he fell probably 35ish feet and smacked the pipe in there."
An Olympic official from Japan later told Axon that Totsuka suffered "no big injury."
Another frightening crash involved Russian skier Pavel Trikhichev, whose left ski got caught in one of the gates and launched him into the air during the men's alpine combined on Tuesday, reported The Sun. Trikhichev slammed against the ground, sliding into a fence before coming to a stop. Somehow, he survived the accident with only cuts and bruises.
And these are just a few of the nastier-looking falls during the 2018 PyeongChang Winter Olympics. For casual winter sports viewers (like me), crashes like these probably make you wonder: Why in the heck would people choose to compete in such dangerous sports? My guess is it must be some combination of the thrill of the run and a highly-competitive spirit that keeps these elite athletes coming back for more. Still, big crashes serve as a sobering reminder: Although these are the best of the best athletes in the world, many winter Olympians they're still putting their lives at risk every single time they compete.
Check out Romper's new video series, Romper's Doula Diaries:
Watch full episodes of Romper's Doula Diaries on Facebook Watch.