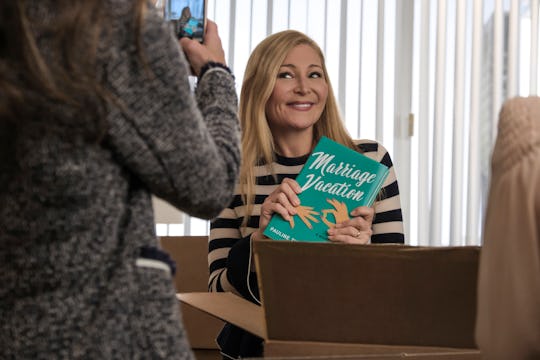 TV Land
'Marriage Vacation' From 'Younger' Is Now A Real Book & We're So Pumped
I'm always elated when I see fiction crossover into reality. When Castle's fictional book series, Nikki Heat, was released as a real set of novels, and authored by the show's fictional character, Richard Castle (Nathan Fillion), fans were beyond excited. Now, fan's of TV Land's hit series, Younger, are wondering if one of the Season 4's fictional novels will get to enjoy the same fate. Is Marriage Vacation a real book?
It looks like you might need to make a little space on your bookshelf, because luckily Marriage Vacation was picked up by the publishing house of Simon & Schuster, and was released in hardback, paperback, and digital editions on June 5, 2018. You can purchase your own copy today from the publisher itself, or bookstores like Amazon and Barnes and Noble. The 256 book is authored by the show's fictional character, Pauline Turner Brooks, and is available in prices ranging from $13 to $26.
In Season 4, Pauline (Jennifer Westfeldt) writes this scandalous tell-all about her ex-husband, Charles (Peter Hermann), who happens to be the CEO of the Empirical Press. Awkwardly, Liza (Sutton Foster) who is secretly in a romantic relationship with Charles, is tasked with editing the book, which is scathing in it's bias. Plus there's the fact that Pauline is confiding in Liza, which makes the whole situation even more uncomfortable for her -- especially the steamy sexual encounter detailed on page 58 of the book that had everyone in the office gossiping and Liza trying to forget she ever read it.
Of course, Pauline is a fictional character, so there has to be a real author to credit the book to. According to Entertainment Weekly, author and ghostwriter, Jo Piazza, was brought on board to write Marriage Vacation in Pauline's voice. In an interview with the outlet, Piazza noted that she was approached by her publisher to write the book because they believed she was the only one who could pull it off. She explained that she rewatched the whole show before writing, and then collaborated with the Younger team to outline the details. In regards to the writing process, Piazza told Entertainment Weekly:
"They gave us a lot of leeway while writing the book, which was fantastic. We came up with an outline, gave it to Darren [Starr], and Darren has a couple tweaks, a couple changes, and was like, 'yes', and we got to run with it."
Piazza said that she believes the book is not just an extension of the show, but it also portrays the story of a woman in her 40's, which is often overlooked when it comes to mainstream TV and fiction. She explained:
"Both the show and the book are showcasing real women in their 40s with real struggles and also really interesting lives, inner lives and outer lives, and I think that that's a big step, to show women in a different age range than both Hollywood and books have in a really long time."
When asked why fans should read the book, Piazza responded:
"Fans of the show will love the book because there's just so many nuggets from the show that it gets you so excited when you stumble on them. Hands down, the best thing about the book is that we get to know more about Charles. I think most fans desperately want to know what's beneath that very well-tailored three-button suit."
So if you're a huge fan of Younger, I'm sure Marriage Vacation will be on your bookshelf or your e-reader in no time. However, you might want to go somewhere private when you finally get to page 58.