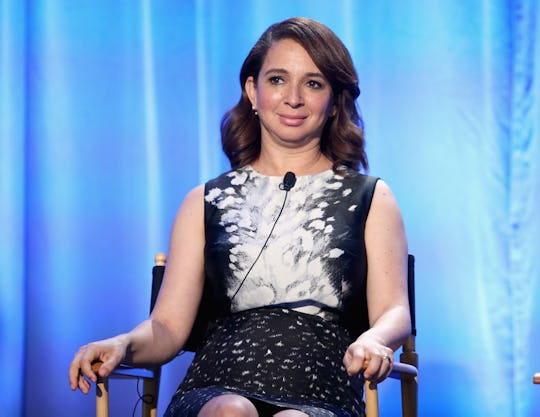 Frederick M. Brown/Getty Images Entertainment/Getty Images
Is Maya Rudolph Lip-Syncing In 'A Christmas Story Live!'?
A Christmas Story graces cable-having households every year for a 24-hour marathon on one of TBS's networks, which always airs the holiday classic on loop for an entire day over Christmas Eve and Christmas Day. FOX is reviving the 2013 musical adaptation for a live telecast starring, among others, Maya Rudolph, but is Maya Rudolph lip-syncing in A Christmas Story Live!? Given the deep bench of musical theater talent FOX has lined up for the event, and the fact that Rudolph has a gorgeous singing voice, it's not likely that she'll just be pretending to sing. So rest assured that those impressive vocals that you'll hear are very much her own and taking place in real time.
Rudolph plays Mother Parker, Ralphie's mom, opposite Chris Diamantopoulos as Old Man Parker (aka Ralphie's father). Matthew Broderick plays Adult Ralphie, who narrates the story of his favorite childhood Christmas in Northwest Indiana through a series of memorable anecdotes, and after a nationwide digital casting search, FOX chose 11-year-old Andy Walken of Seattle, WA to play young Ralphie Parker. In a casting featurette, Walken admits to loving the original movie and says that reviving the character of Ralphie is the role of a lifetime for him.
Jane Krakowski and Rudolph's fellow SNL alum Ana Gasteyer round out the cast as Ralphie's teacher Miss Shields and his friend Schwartz's mom, respectively. Rudolph was born to musical parents — her mother was soul singer/songwriter Minnie Riperton and her father Richard Rudolph was a composer, songwriter, and producer — but she's also a talented singer herself. She frequently sang in SNL sketches, but before her long tenure on the show, she was actually a backup singer. These days, she still performs in a Prince cover band called Princess with her friend Gretchen Lieberum. While she doesn't have any Broadway credits to her name, unlike the rest of her seasoned musical theater cast, Rudolph is the live TV veteran of the bunch.
In a recent joint interview with Entertainment Weekly, Broderick admitted he was anxious about the live TV element himself, but noted that his costar seemed totally at-ease. Said Rudolph:
I know my live performances go a lot better [than rehearsal], so it's probably going to be a better version of what I normally do. I think live actually gives me more adrenaline and energy, but I don't pretend to know [the musical] process. I thought, 'I've never done a musical before. Won't this be great?' I've always had real big, high aspirations to do Broadway. I had no idea what I was stepping into. It's truly another animal.
And even though Rudolph has sung live on TV dozens (if not hundreds) of times before, she admits that singing still makes her nervous. "In all the things that I've ever had to do in front of an audience, it's singing that scares me the most," she explained in the same interview. "It's a very vulnerable part of myself. I just feel completely naked singing."
Rudolph says she feels deeply connected to the movie, even though it wasn't necessarily a holiday tradition to watch it in her house. Rather, she likes that she was able to come to it on her own once she could understand and appreciate its darker sense of humor. Said Rudolph of the shoes she has to fill:
I love Melinda Dillon [as the mother] in the movie so much. I didn't expect to ever play her part in the musical, but she really shines for me in that movie. She's just wonderfully warm and a little bit her own odd, quirky mother that's not a normal mother but is a normal mother.
You can catch A Christmas Story Live! when it airs (live, duh) on FOX Sunday, Dec. 17 at 7 p.m. EST.
Check out Romper's new video series, Romper's Doula Diaries:
Watch full episodes of Romper's Doula Diaries on Facebook Watch.