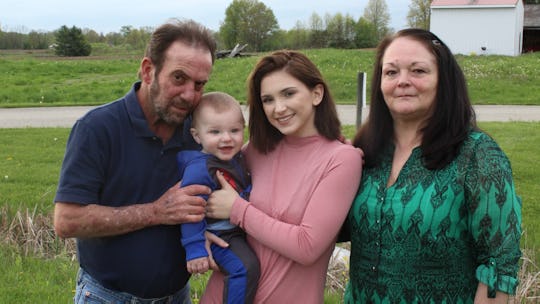 TLC
McKayla Adkins May Have Dropped A Huge Hint About Her Life After 'Unexpected'
In her first episode on Unexpected Season 2, McKayla was in the middle of a pregnancy scare. What did the pregnancy test say? Is McKayla Adkins pregnant again after Unexpected? Well, nobody knows for sure except McKayla and her family.
On the show so far, she's not. The pregnancy test in her first episode turned out to be negative in the second, and Caelan's mother (the grandmother of their son together, Timothy), told them to hang it on their wall as a reminder not to have unprotected sex. But to be honest? If McKayla's Instagram photos from the past couple months are any indication, it's possible.
There are a few reasons some fans may think McKayla is pregnant. One is an Instagram photo of her at the beach, belly protruding just-so. Another was one of McKayla's YouTube vlogs about the beach day, which has amassed over 100,000 views. At around the 1:26 mark, McKayla shows off her belly and slaps it playfully. While the comments for the video suggest that people think she is in fact pregnant for the second time, McKayla turned comments off the corresponding Instagram photo (and a lot of others, too).
In another one of McKayla's Instagram photos, this one from several days ago, fans are suggesting that she looks pregnant again. Both McKayla and Caelan have been mum on the subject. In any case, her belly is not at a point in anything I've seen where I would be confident in saying 100 percent that she's actually pregnant again.
McKayla hasn't officially announced one way or another the exact state of her uterus. And even if she is pregnant, she gets to wait until she's ready to let the world know (because everyone knows the world can get really judgy about these things). If she is pregnant again, though, it's always possible that it will come up on the show. The only thing more dramatic than baby number one is baby number two.
McKayla's story on the show has already been pretty dramatic, starting with her relationship with her mom, who was herself a teen mom. McKayla was raised by her grandparents because of her mom's addiction to drugs, but by the time McKayla was pregnant with Timmy her mother was in recovery and pregnant with a child of her own. Luckily, McKayla is clearly an extremely doting and dedicated mom, and her relationship with Caelan appears to be going well. So if she is pregnant with another little one, I have all the faith in the world that she'll be a great mom.
While the teen pregnancy rate has declined in America over the past few decades, teen mothers still exist. Shows like Unexpected don't sugarcoat the experience, and shows what hardships cast members like McKayla go through on a daily basis. Viewers will have to keep watching to see if the fan theories are true, and if she's expecting her second child. Personally, I can't wait and hope for the best.