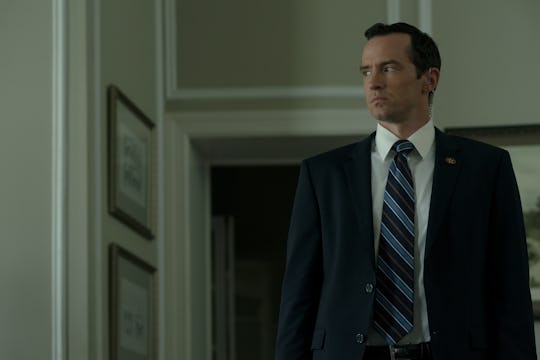 Nathaniel E. Bell/Netflix
Is Meechum Back On 'House Of Cards' Season 4? It's The One Question Every Fan Needs Answered
House of Cards Season 4 is back, and just in time for America's own 2016 election cycle. And even though I'm overjoyed to see Frank and Claire and all their ruthlessness returned to my bright and shiny computer screen, there's only one thing I really care about: Is Meechum back on House of Cards? Oh, hell yeah he is. After that brilliant, beautiful, and absolutely WTF threesome scene that went down in Season 2 (they didn't exactly spell out that a threesome was about take place so much as they let that scene in Episode 11 stand as a preclude to what probably, maybe, most definitely was a threesome), Meechum's role in Season 3 was a little less, uh, visible. But Edward Meechum is back and more Secret Service-y than ever on Season 4, and that's totally going to shake up the Frank and Claire dynamic.
In Season 3, Meechum's role wasn't all that noteworthy. (For the record, I guess that's kind of the point when you're on the president's detail?) Sure, he made a few threats at Thomas Yates in order to protect Frank from himself, but there's really no juice to Meechum's character all throughout the season. And after *that* Season 2 scene, I was disappointed that Season 3 just felt like a fizzle and flop as far as his character was concerned. Yet the Meech is back and more loyal than ever in Season 4.
Meechum's loyalty to the Underwoods has always been his greatest professional asset. It's what got him promoted to Claire's Secret Service detail and ultimately, what got him rehired to the Underwood's service in the first place. It should come as no surprise that both Frank and Claire value unwavering loyalty above all else — it's probably the second most-important trait they look for in a friend, aside from like, the ability to ruthlessly and silently kill, destroy, and totally destruct anyone standing in their way — so the fact that Meechum fits so squarely into that role obviously really rubs Frank and Claire the right way. Due to the fact that this is an election year for Frank (and an incredibly important one at that), I can only imagine the need to keep a tight lock on his most fervent and loyal supporters has increased tenfold. Plus there was that adorable scene in Episode 1 of Season 4 when the Meech takes off Frank's glasses after he falls asleep. Was it a sign of love to come?
Even though I'm not crossing my fingers for a repeat threesome (not because I don't want to see it, guys. I'm not a monster.), I am hoping that Season 4 Meechum will propel us a little bit deeper into the nitty gritty of his character. I, for one, would love to know a little bit more about the man inside the president's bedroom.