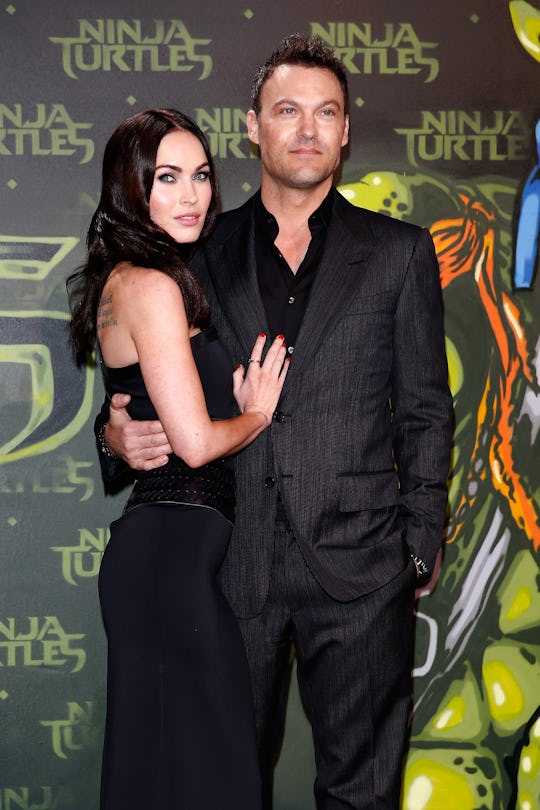 Andreas Rentz/Getty Images Entertainment/Getty Images
Is Megan Fox Still Married? The 'TNMT' Star Recently Reconciled With Her Husband
Your favorite girl crush, Megan Fox, announced that she was pregnant with her third child this past week and fans rejoiced. The Teenage Mutant Ninja Turtles star looked radiant as she debuted her brand new baby bump this past Monday. But for those who are fans of Fox, who has reportedly been estranged from her husband for several months, there were still a few lingering questions about her love life. Questions such as, didn't she just file for divorce? Is actor and husband Brian Austin Green the father of her child? And perhaps more interestingly, is Megan Fox still married?
While the former Transformers star filed for divorce in 2015, Megan Fox is still legally married to estranged ex-husband Green. Sources claimed to People earlier this week that the two had reconciled and were living together once more, in light of the new pregnancy, although neither actors' reps would confirm the rumor.
According to family sources that spoke with the magazine, however, the couple are reportedly moving forward with the split, despite both looking forward to the upcoming birth of their child. (This will be the third child for Fox and Green, who already have two sons together.)
The couple initially filed for divorce in August 2015, after five years of marriage and the birth of their sons Noah, 3, and Bodhi, 2. In the divorce documents obtained by People, Fox had cited "irreconcilable differences" as the reason for the split. Fox had also requested joint physical and legal custody of the couple's two sons.
In the documents, Fox listed the couple's official date of separation as June 15. In his response to Fox's divorce request, Green asked for spousal support as well as joint custody of their children.
In November, People spotted the couple together at a café in Hollywood, despite their divorce proceedings. According to the magazine, the two were also spotted together multiple times after that, both with their kids and without them.
They must have enjoyed each others company enough, however, as Fox took to her Instagram this week to address the rumors of who the new baby's father could be. Fox posted the picture of her with her ex-Transformer's co-star and alleged fling, Shia LaBeouf; Teenage Mutant Ninja Turtles co-star, Will Arnett; and New Girl co-star Jake Johnson, with the caption, #notthefather, confirming everyone's suspicions that Green was indeed the three-time father-to-be.
According to TMZ, if Fox were to shelve the divorce papers and reconcile with Green, Green would be eligible to receive money from all that Fox has earned since filing the divorce papers, since Fox makes more money than her estranged husband. But with a third child on the way, this also means that Green is entitled to more child support than he was before.
Despite the two stepping out in Los Angeles after the announcement of the pregnancy, according to People, the divorce is still on. Only time will tell if the proceedings will stick or if the couple will officially reconcile after the birth of their baby. Here's hoping that, whatever happens, everyone ends up happy.