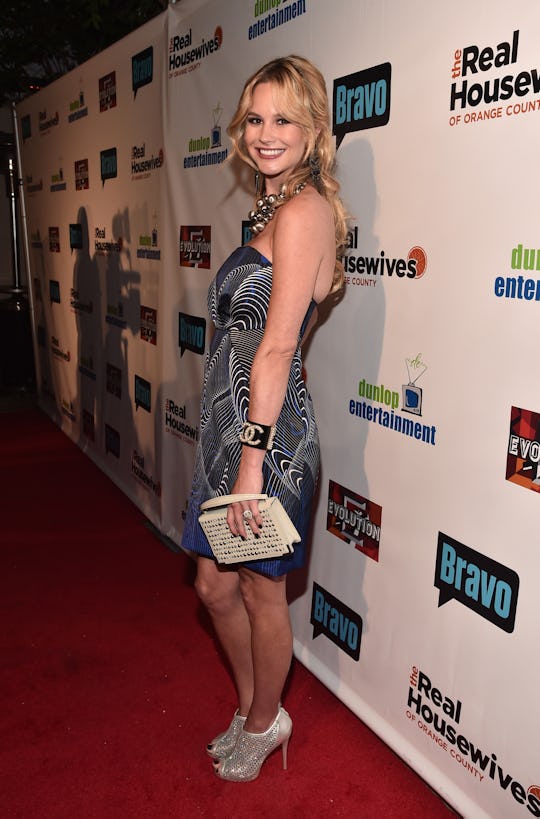 Alberto E. Rodriguez/Getty Images Entertainment/Getty Images
Is Meghan King Edmonds Having A Boy Or A Girl? The 'Real Housewives' Star Is Ecstatic
In an exclusive interview with People this week, The Real Housewives of Orange County star Meghan King Edmonds confirmed she's having a baby girl. This will be the 31-year-old's first baby, though her husband, former professional baseball player Jim Edmonds, has four children from two previous marriages, so she's certainly had practice lately with the little ones. "I've always dreamed of this, but it's still such a miracle," Edmonds told People. "I can't even describe the feeling."
Edmonds joined the Orange County cast in 2015, when the show was in its tenth season. The new season will air this summer, and Edmonds is now an integral part of the cast of the first and longest-running of the Housewives franchises. Edmonds and her husband had been married less than a year when they joined the Housewives family. At the time, Bravo emphasized Edmonds' role as a new wife and stepmom, stating in a press release that "Meghan has been thrown into the role of instant stepmom and is not only struggling to find her place in her newly formed family, but also within the OC social scene."
In a post at her Instagram account this morning, Edmonds included an adorable photo of her and her husband holding hands, looking down at her emerging baby bump. "Jimmy and I are over the moon!" she wrote in the caption. "We are thrilled to bring our daughter into our perfectly imperfect blended family in time for the holidays!"
Meghan and Jim had a somewhat unique pathway to parenthood, according to People. The couple conceived via IVF treatments, but this wasn't because either had an infertility issue, at least not in the typical sense. Rather, it was because Jim had previously had a vasectomy and frozen his sperm. Edmonds' experience with IVF will be featured in the upcoming season of Housewives, which premieres next week.
"I was swollen and in pain and it hurt to even sit straight up," Edmonds told People, referring to the drug stimulation injections that reportedly caused her ovaries to swell to the size of grapefruits. "It was awful. And then the recovery from that was hard."
The upside, though, was that Edmonds became pregnant after the first round of IVF. "I couldn't believe it the first time I peed on a stick and I saw that little line kind of get a little darker," she said.
Edmonds is known for her cut-the-crap attitude on Housewives, as evidenced in the photo mashup below, and it's reasonable to expect that she'll need to pull out all of these expressions once she's a mom:
Congratulations to the mom-to-be!