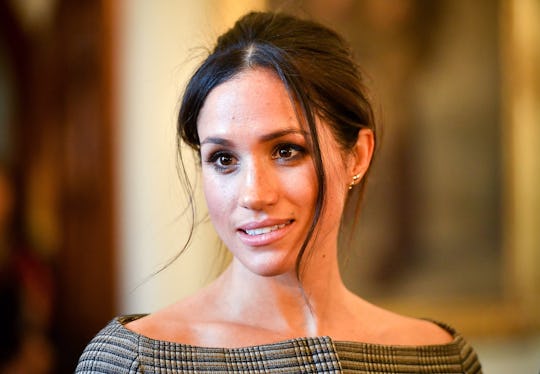 WPA Pool/Getty Images Entertainment/Getty Images
Fans Are Really Wondering If Meghan Markle Will Go To The Olympics
Fervor over the upcoming royal wedding has been high ever since Meghan Markle announced her engagement to Prince Harry. Fans of the couple are eager to know when and where they'll be making their next appearance, but can audiences expect to see them during the games at PyeongChang and will Meghan Markle be at the Winter Olympics?
So far there doesn't appear to be any sign that she will be in the crowd at the Winter Olympics. It doesn't seem like Markle, her fiancé, or the royal family have made any kind of statement indicating that they'll be piling into their warmest coats to head over to Korea for the games. There will be plenty of opportunities throughout February for an appearance with so many different events scheduled, so perhaps fans shouldn't totally lose hope. However, there's no way to know for sure until an announcement has been made or someone spots Markle among the other attendees.
It also seems like Markle might be too busy to fit in a visit to PyeongChang for the Winter Olympics. People reported that she and Prince Harry would be taking a trip to Edinburgh on February 13, just in time for Valentine's Day. The announcement came from Kensington Palace, so the information seems to come on good authority. Prior commitments may keep Markle and Prince Harry from showing up for one of the many Olympic events.
While in Scotland, the couple will make a few stops, checking out Edinburgh Castle and a youth cafe run by Social Bite, as well as a reception at the Palace of Holyroodhouse intended to honor the Scottish Year of Young People. That appears to be the only hint about what Markle will be up to this February. Since she deleted her social media accounts, fans have to wait for official word to find out where Markle will be in the months leading up to her May 19 wedding.
Markle recently made her first royal speech while attending the Endeavor Fund Awards, where she was a presenter. The event honored injured or sick servicemen and women who had excelled in "sporting and adventure challenges" in the last year, according to The Telegraph. Markle was praised by Town & Country for handling a minor mishap gracefully at the award show; when a list of nominees seemed to have gone missing, she stepped in to smooth things over.
That may have been the start of her public royal duties, but they will likely continue as excitement for the wedding grows. It's just impossible to say whether they will continue at the Olympics or not.
Members of the royal family have attended the Olympics in past years, however, and even participated. Queen Elizabeth II's granddaughter Zara Tindall won a silver medal at the 2012 Summer Olympics as an equestrian. Tindall's mother, Princess Anne, had also competed in equestrian events in 1976 and the entire royal family showed up to cheer her on. According to PopSugar, William, Kate, and Harry have all been present at Olympic events in the the last few years, too.
It's definitely not uncommon for royals to show up at the competition or the opening ceremony, so it wouldn't be a surprise if Markle and Prince Harry (or any other royal relatives) were planning on going after all. Unfortunately, it's not clear whether Markle will be joining the number of royals who have made an appearance at the Olympics. It would be nice for fans of the actress turned royal to know for sure if she'd be there, but they'll just have to wait and see how it goes over the next few weeks.
Check out Romper's new video series, Romper's Doula Diaries:
Watch full episodes of Romper's Doula Diaries on Facebook Watch.