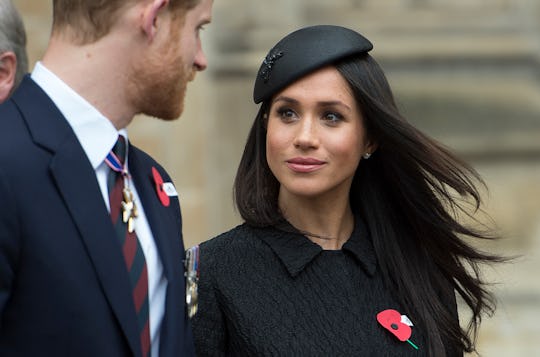 WPA Pool/Getty Images Entertainment/Getty Images
Is Meghan Markle's Father Going To The Royal Wedding? Here's What We Know
Fans of the royal family — and of Prince Harry and Meghan Markle as a couple — only have a few shorts weeks left to wait before the two tie the knot in what is sure to be a fantasy royal wedding. As more details about the event emerge, questions still remain about who will be in attendance, and what their roles will be. For instance, is Meghan Markle's father going to the royal wedding? And what will his role be, if anything?
It's a fairly common tradition for the bride's father to walk the bride down the aisle during a wedding, although not everyone chooses to follow it. But even a few weeks ago, there was still some question of whether Meghan's father, Thomas Markle, would fulfill that role at her royal wedding. In mid-April, Meghan's uncle Michael — who reportedly lives far from the soon-to-be royal in Florida in the United States — told The Daily Mirror that Thomas hadn't "heard anything and he didn't even know if he would be walking Meghan down the aisle."
However, The Daily Beast reported in March that Thomas is invited to the wedding, and that he will be walking her down the aisle on her big day. The outlet reported that Meghan had a falling out with her father as a teenager, but that everything is good now and he'll indeed be there.
Part of the reason why people are still questioning whether Meghan's father Thomas will be at the wedding is that there are still lots of things that are still unknown about the occasion. And that's OK. It's going to be a very public event, but that doesn't mean the public has to be made aware of every single detail about the wedding leading up to it. It really is fine for people to not know everything, as much as royal family fans may want to.
In addition, Meghan's estranged half brother, Thomas Markle Jr., recently shared a handwritten letter with In Touch, and he claimed in the note that their father was not invited to the event. "Her own father didn't get an invite, whom should be walking her down the aisle," he wrote in the letter sent to In Touch that was reportedly meant for Prince Harry. So that brought up questions of whether Thomas was going to be attending at all, let alone walking Meghan down the aisle.
But the letter included some choice negative words and thoughts about Meghan, and is really pretty mean-spirited in general, so it's probably best to take the whole thing with a grain of salt. Family can be complicated, after all, and when you add in something as big as a royal wedding — well, it's not a surprise that things can get a little messy.
Indeed, PEOPLE reported that Thomas is still expected to be at Meghan's wedding, despite any other reports to the contrary. The outlet reported that both of her parents are expected to be with Meghan during her royal wedding to Prince Harry, and that Prince Harry actually asked Meghan's mother, Doria Ragland, for her permission before he asked Meghan to marry him.
But it's still not totally clear what Thomas or Ragland will actually do during the ceremony. In January, PopSugar reported that Meghan wants her mom to walk her down the aisle, but there's no word on whether that's actually going to happen or not. There's always a chance that both parents would escort her to the altar, or that neither of them will do it.
It sounds like Meghan and her mother are pretty close, so there's also the possibility that Ragland could be a bridesmaid or something instead. A friend of mine is doing that with her mom for her upcoming wedding, actually, and I've seen it before, so it's not totally unheard of.
But as far as what Thomas Markle will be doing during the royal wedding, no one outside of the inner planning circle seems to know just yet. And that's OK. The public doesn't need to know every little detail right now. And besides, we've still got a couple weeks left to go — who knows what Kensington Palace may announce before the big day arrives.
Check out Romper's new video series, Bearing The Motherload, where disagreeing parents from different sides of an issue sit down with a mediator and talk about how to support (and not judge) each other's parenting perspectives. New episodes air Mondays on Facebook.