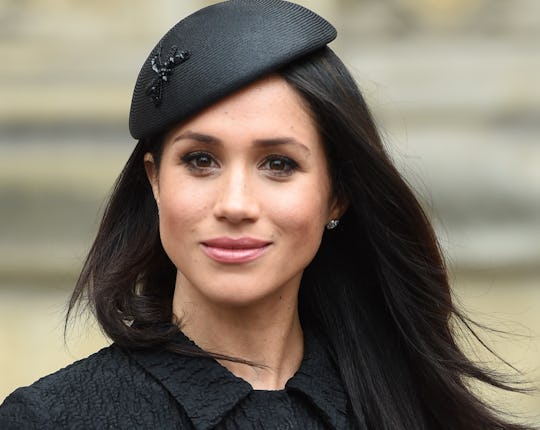 WPA Pool/Getty Images Entertainment/Getty Images
You're Not Gonna See Meghan Markle's Sister At The Royal Wedding, & Here's Why
Meghan Markle famously faced a lot of drama from her family in the days leading up to her wedding. The invitations to her dad were given and declined so many times I lost count. But was Meghan Markle's half-sister at the royal wedding to show her support? Samantha Markle, who also goes by Samantha Grant, has a pretty complicated relationship with her younger half-sibling.
Samantha Grant (née Markle) was not at the royal wedding. But was Grant even invited to the royal wedding in the first place? In a word, no. As of April 2018, Grant confirmed via Twitter that no one in the Markle family had received an invitation to the royal wedding, according to The Metro. Her Twitter account has since been locked.
But the outright lack of an official invitation did not sway the elder Markle sister from attempting to join the wedding events anyway. Grant planned to fly to London to serve as a TV wedding correspondent, according to US Weekly. "Meghan is really worried about some these members of her family," an insider source told US Weekly. "She hasn't spoken to them in years." It seems like the strained familial relationships have followed Meghan Markle for quite some time. If that's true, then it shouldn't be a surprise that Grant didn't receive an invitation.
How are they even related, you ask? They are related by blood. Grant and Meghan share the same father, Thomas Markle. Grant and her brother, Thomas Markle Jr., were born during Thomas Markle's first marriage, as noted in Town & Country. By the time Thomas Markle and his second wife, Doria Ragland, had Meghan, his elder children were almost grown. In fact, Grant is 17 years older than Meghan.
For her part, Grant has publicly shared some criticism about her half-sister. Even prior to Meghan and Harry's engagement, Grant called out Meghan for failing to fix their father's financial problems on Inside Edition. "If you are interested in helping those less fortunate than yourself, then really it should begin at home," she said. This was in response to Meghan's humanitarian work with children around the world.
The elder Markle sister even has a book in the works. Originally titled The Diary of Princess Pushy's Sister, Grant's book has been described as a tell-all memoir about her family, according to Bustle. She has since has reportedly changed the book's title to A Tale Of Two Sisters, due in part to the original title's controversy, as noted in Express. She claims the original title was misunderstood by the public. "With the previous title that was my point — that you can't judge a book by its cover title," said Grant. "I wanted the public to look beyond that, just like I want the public to look beyond social labels because they are injurious. But the opposite occurred and it backfired on me." A release date has yet to be announced.
As the date of the royal wedding neared, Grant's time in the media spotlight has only increased. She was heavily involved in the mystery of whether or not her father would attend the wedding, even reportedly helping to stage paparazzi shots of Thomas Markle preparing for a European trip, according to People. In a recent interview with Sunrise Live, Grant slammed the media for negatively representing her family, but claimed her own comments did not contribute to the tabloid frenzy. "I guess it depends on what culture you're from, but in the United States, the media take great liberty to spin and skew things," she said. "They're going to create their own stories whether you speak or not." She has also said that she was only trying to present her family in a more positive light, and that none of her interviews were motivated by money.
On top of that, TMZ reported that Grant broke her ankle while in a car crash in the days leading up to the wedding. Her boyfriend, Mark, told TMZ that they were driving in Florida when they had paparazzi confrontation which led to the crash.
What becomes of their relationship after Meghan's wedding remains to be seen...