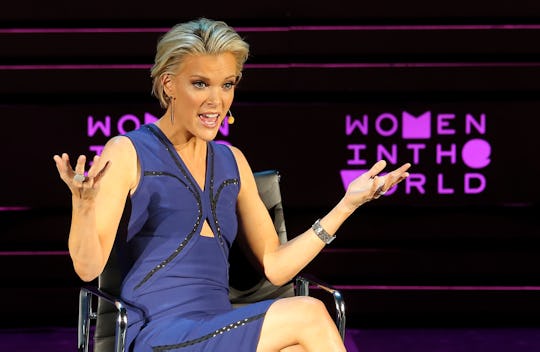 Jemal Countess/Getty Images Entertainment/Getty Images
Is Megyn Kelly Moderating Any Of The Presidential Debates? Trump & Clinton Will Face Off
The 2016 Presidential Debates kick off Monday, Sept. 26 at 9 p.m. Eastern Time, and will be the first time that presidential nominees Hillary Rodham Clinton and Donald J. Trump debate the issues face-to-face. The series of three debates will unfold through October, and NBC recently released the list of moderators for each evening. Many wonder: is Megyn Kelly moderating any of the debates?
Most memorably, Kelly was embroiled in Trump's misogynist rhetoric after she pressed him about his attitudes toward women during an interview. Trump infamously claimed she was "out to get him" and had "blood coming out of her wherever," (implying she was menstruating, and that had caused her to be emotionally volatile toward him). He then said he intended to boycott any future debates she might be involved in.
The last time Kelly moderated a debate (at the Republican debate in Des Moines, Iowa, in January) Trump actually did refuse to participate.
He's also called her out several times both directly, and somewhat indirectly, on Twitter, often referring to her as "crazy":
Kelly tried to refrain from engaging with Trump, but did tell George Stephanopoulos in an interview that she felt the feud between herself and Trump was "bizarre," according to ABC News:
It was bizarre because I became the story. He was so very focused on me that I became the story and, you know, you never want to be the story when you're a news person.
For the presidential debates, to air on NBC, the moderators do not include Kelly: NBC's Lester Holt will host the first debate, Anderson Cooper and Martha Raddatz will co-moderate the second, and Chris Wallace will wrap up with the final debate on Oct. 19 in Las Vegas.
The Commission on Presidential Debates issued a statement regarding its choices, stating:
These journalists bring extensive experience to the job of moderating, and understand the importance of using expanded time periods effectively. We are grateful for their willingness to moderate, and confident that the public will learn more about the candidates and the issues as a result.
The commission also announced the topics for the first debate: America's Direction, Achieving Prosperity, and Securing America.
Clinton and Trump will be the only two candidates participating in the debate, as Libertarian candidate Gary Johnson and Green Party candidate Jill Stein didn't meet the cut-off in recent polls to be able to participate.
The vice presidential debate between Indiana Gov. Mike Pence and Virginia Sen. Tim Kaine on Oct. 4 will be moderated by CBS News' Elaine Quijano.
Even though Kelly won't be hosting any of the debates, she's still pretty busy with her show on Fox. She also just signed with publicity firm 42West, adding publicist Leslee Dart to her personal PR team — a smart move, since her contract with Fox Networks will be up for renewal next year.
Kelly also has a book forthcoming from Harper in November: Settle For More will be published right after the election. According to Amazon, the book will cover "the values and lessons that have shaped her career, to her time at the center of the chaotic 2016 Republican presidential primary, this book offers an inside look at an uncompromising woman's journey to the top of the news business."
Kelly has not yet discussed if she plans to sign another contract with Fox Networks when her contract is up or if she has plans to move on.